Swissbake's cakes had always captured our attention whenever we walked past their kiosk in Takashimaya. We can't help wondering: "For $3.90 per slice, does it taste good?" We decided to give it a shot especially when all their cakes look so alluring and exquisite.
Walnut Cheesecake
The texture of this cake reminded us of the Apple & Nut Cheesecake from Cedele. The sweet aroma of slightly toasted walnut in combination with cream cheese was luscious. The cream cheese was smooth, soft & delicate, with a delightfully sweet taste of maple syrup.
J's & A's rating: 4.25/5
We tried out 2 more cakes last Saturday when they're having a promotion. 2 slice cakes for only $5! What a good deal!
Paradiso Di Nocciola
Being one of their signature cakes, this cake does not disappoint us. Hazelnut rocher sponge cake sandwich with rum soaked crunchy vanilla biscuit. It was divine! The rum was very mild which was quickly overpowered by the strong taste of hazelnut rocher.
(A: Hazelnut lovers would fall for this!)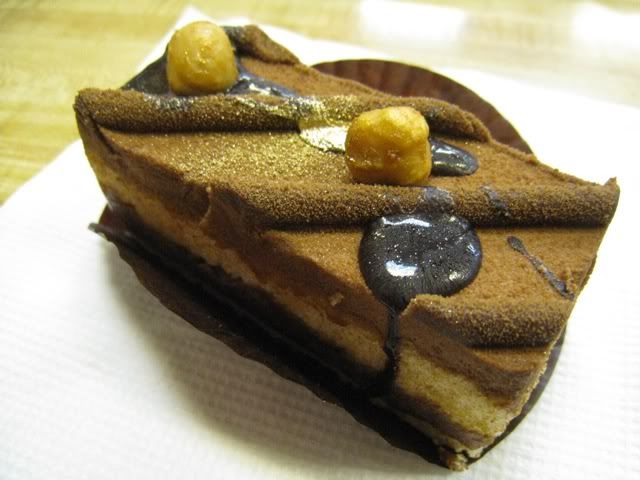 J's & A's rating: 4.5/5
Oreo Cheesecake
This oreo cheesecake was a little disappointing. The cookie chunks were soft & soggy unlike the one we had at Bakerzin. Cream cheese was a little sour to our displeasure prob due to the addition of lemon.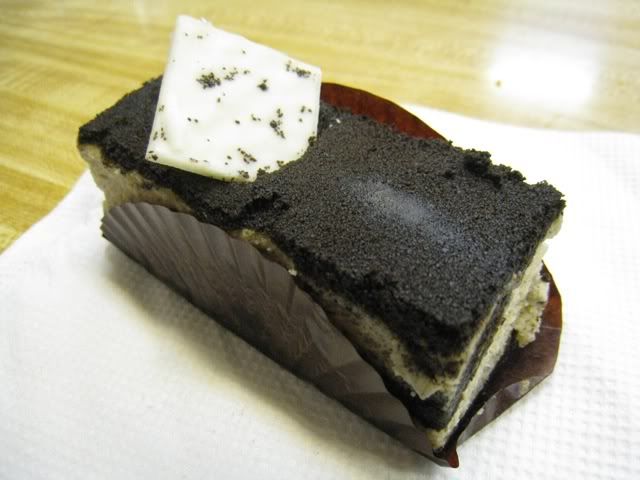 (J: The oreos were sooo finely mashed and stuck together tt there's no crisp to it at all. I love big oreos tt r chunky and crunchy.)




A's rating: 3.5/5, J's rating: 3/5



Overall, we were surprised and pretty satisfied with Swissbake's quality cakes, at reasonable prices! We will certainly patronise again to try out other signature cakes!
Swissbake
Ngee Ann City
B2-04