Oriole Café & Bar, situated at a quiet corner in Pan Pacific Service Suit, is a hidden gem in Orchard road! The cozy and quiet ambience is definitely a place to chill out and relax in the noisy and bustling city.
This was the second time we patronized the café. There was a slight disappointment the first time we went, which we will talk about it later. Nonetheless, we decided to give it another chance to prove its worth. This time we're back with satisfaction!
We made a reservation for dinner tonight as we knew the café will be quite packed at night.
We like the ambience in the café. The lightings and music in the café make us feel so comfortable and relaxed. It was a great place for date, chilling out, and gatherings! The staffs here were pretty efficient except that it was a little difficulty in getting their attention when they're busy. Our drinks were refilled quickly and our dishes were served swiftly after placing the order.
Beef Cheek Tagliatelle ($15)
Melt-in-the-mouth tender beef cheek slices, it was exquisite and heavenly! Red wine braised beef cheek rendered both of us speechless. It surpassed our expectations on the beef slices and we did not even need to cut them! They simply dissolve in our mouth.
The snapper loin was firm and the batter was light, thin and crispy. We thought the tartar sauce was pretty good, with a slight combination of sweetness and sourness. The wedges could be better as it tasted a little bland on its own. However, we must point out that the tartar sauce with the fish and chips was so palatable that we actually requested for more!
Chocolate Fudge Cake ($6)
Being one of Oriole's signature cakes, this definitely enthralls chocolate lovers. The warm, rich chocolate cake was moist with oozy molten chocolate in the centre. We love the fact that it was not overly sweet but it could be too rich to be finished by a person.
Chocolate Brownie with Vanilla Ice-cream ($5.50)
Being chocolate lovers, we wanted for more and ordered an additional chocolate brownie. The brownie was more of a fudge brownie, the texture was gooey rather than cakey. The rich, creamy vanilla ice-cream with the brownie was pretty pleasant.
We were very satisfied with the food this time round and will definitely be back again especially for the beef cheek tagliatelle!
We spent
$48.85 (after GST and service charge) in total for 2 mains and desserts.
Reasonable price for such exquisite food and excellent attentive service in Orchard road!
...................................................................................................................................................................
Now we will tell you about our slight disappointment we experienced on our previous visit.
We went in the afternoon for brunch a few weeks ago. These were what we ordered:

The coffee in Oriole Café was fantastic.
Starbuck's coffee was incomparable to Oriole's coffee. For the price you pay at Starbuck, you could get a better coffee here. We read up a review on http://www.photoblog.visitors.sg/ stating that Oriole had two of the best baristas in Singapore! That explains their unqiue creation of coffee in Oriole Cafe.
A rich espresso latte that does not leave an acidic taste in the mouth. The full-bodied aroma lingered in our mouths. The presentation was absolutely lovely~
A's rating: 4/5, J's rating: 4.5/5
Sipped slowly and you could taste the subtle mint flavor in the latte. Quite a unique latte actually except that the mint flavor was not distinct enough.
And these were the 3 dishes that left us in bitter pit.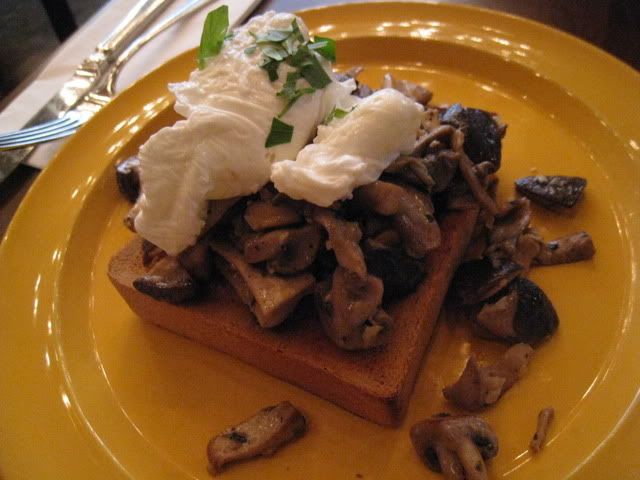 Smoked Salmon Toast with Poached Eggs ($14)
The toast was overly toasted and the poached eggs were SUPER SOUR! The vinegar taste was so strong!
(A: I could make better poached eggs than them! haha!)
Waitress said it could be because the chef wasn't in a good mood that day. What a reason -___- The mushroom was normal, nothing special to mention about. The smoked salmon was too salty, saltier than an average normal smoked salmon.
Salty salmon, super sour poached eggs with hard toast. It was disastrous!
Deeply regretted what we ordered.
(J: With my toothache tt day, this meal simply worsened my condition *faint*)
A & J's rating: 2.5/5 for both toasts
Last but not least,
Bread Pudding ($8)
The texture of the bread pudding was too firm and dense for our liking. It was similar to the texture of agar agar. We expected it to be softer, soggier and warmer. Though we requested it to be warmer, it was still not up to our expectation. Perhaps you may have a different view on this. But for us, the taste was just not right.
Though the first visit was not a pleasant one, but we were glad that the second visit make up for it.
Oriole Café is a great coffee place in the day and a fantastic chill out place at night! We highly recommend Oriole Café to all our readers.
Oriole Café & Bar
96 Somerset Road #01-01
Pan Pacific Serviced Suites
Tel: 6238 8348
Call to make reservation especially on weekends