Janelle and I had a long day of interview today. We decided to head off to Cafe Oliv for a big treat! The restaurant was empty when we entered. It was already like 7.30pm and there was no one there?? Don't be deceived by it! People only start streaming in after 8pm. Why does people at east coast road have their dinner so late? haha
We ordered
Chargrilled Bratwurst Snail & Spicy Italian Sausages with Rosti Potato $14.90
A's rating: 4.25/5, J's rating: 4.3/5
A:
I like the rosti in Cafe Oliv! It was different from what I've tasted in Lauterbrunnen (Switz). Rosti is actually a national dish of Switzerland, usually served with sour cream. Rosti in Cafe Oliv was made using shredded potato and they pan-fried it, topping it with bacon, adding additional crisp to the rosti! It was not overly seasoned and it tasted great with the bacon and sour cream. Both of us find the spicy italian sausage must tastier than the bratwurst snail sausage. This would have been a perfect dish if not of the snail sausage. Oh, they also add final touch to the dish by adding fried shredded sweet potato! We had to ask the owner to find out what it was! Janelle even thought that it was "cuttlefish" initially. haha
J:
This rosti is one of the best ive tasted so far. Sometimes e rosti can be too oily, nua n salty. I love the crispiness of the top layer of rosti with bacons and e lighter, softer texture of the bottom layers of rosti with the sour cream. The taste of the spicy italian sausage was so overpowering tt it rendered the snail sausage almost tasteless. But the snail sausage was bland on its own too.
We also ordered
Oliv Tradtional Beef Stew with Fennel, Potato and Pilaf Rice $12.90.
We ordered the dinner set menu which includes a soup+main+drink+dessert ($16.90).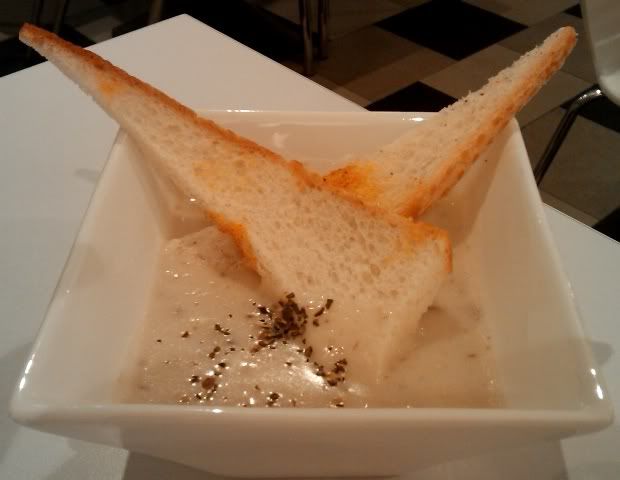 The mushroom soup was very creamy and we both feel that it would be better if there were chunks of mushrooms in the soup. Definitely not ur usual campbellis mushroom soup!
Here's come our beef stew!
This hot steaming stew is delicious! It was a perfect combination with the pilaf rice. Actually we do not know what is pilaf rice. You could feel each individual rice grain in your mouth! The so called "Li Li Fan Xiang!"
It tasted great wih the beef stew, especially when you bite each mouthful of rice with large chunks of beef. Yumm..

J:
I thought the beef could be more tender. There were a couple of beef which were overdone n e tendons made it hard for me to bite off the beef. I actually feel that the pilaf rice was very good bcos each n every grain is very separated n i love the bite of e grains. I would gladly finish the rice on its own with the gravy from the beef stew lol.
A & J's rating: 4/5 beef, 4.5/5 pilaf rice
And finally our desserts! Mudpie!
The presentations of the desserts were awesome! We find this mudpie amazingly delicious! It was a
combination of coffee ice-cream + chocolate bits + chocolate ice-cream drizzled with coffee sauce.
We initially thought that it was chocolate sauce! The coffee taste was not overpowering and not too sweet to make u feel sick after eating a while, which we both like about. Eating the bits of chocolates with the ice-cream was simply delicious! Best mudpie I've tasted so far, even better than Island Creamery.

J's & A's rating: 4.5/5
We decided to get additional dessert as
desserts were having a half-price promotion ($3, UP $5.90) on tue and thursday.
We ordered the brownie with cookies & cream ice-cream.
Brownie with ice-cream
was the highlight of today!
The brownie was heavenly! The 1st bite into the ice cream brownie blown us to heaven~ oOOompHHH aHHhhHHH this issss A-W-E-S-O-M-E!! Chunks of walnuts can be seen and the brownie was so soft that it dissolve almost immediately in your mouth!
It was not too sweet and definitely v shiok when served
warm
with the ice-cream.
Janelle and I were like snatching the brownie among ourselves n scraping the plate, not wasting every bit of brownie left! haha. It was
THAT GOOD!!
We couldnt't help smiling when we started eating the brownie! It's been a long time since we've experienced such a heavenly dessert, other than the bread pudding in London.
Brownie with Cookie & Cream Ice-cream
Feeling insatiable after finishing the brownie within a min, we succumbed to the growlings of our stomachs which were hankering for more brownies!
We're such a glutton pigs! haha!
This time we ordered
Brownie with mocha chip ice-cream.
We're in heaven! It's the best dessert we've eaten in Singapore. The only dessert that would make both of us come back for it again! The brownie tasted much better with the mocha chip ice-cream. Next time we will just order this combination! The mocha ice-cream was very aromatic n shiokfully delicious in combination to our warm brownie choked full of nutty chunky walnuts drizzled with choc fudge! This really gave the extra punch tonight!
(
J:
Personally I feel that the mudpie was gd but bcos its all cold coffee & choc ice cream mudpie, it was less shiok as compared to warm brownie with cold ice cream. This brownie with mocha ice cream can definitely satisfy both ur cravings for choc & coffee!)

We feel that the cookies and cream ice-cream was pretty normal, nothing fantastic.
Brownie with Mocha Chip Ice-cream
J's & A's rating: 4.8/5 for brownie with mocha chip ice cream.
This brownie would have scored 5 if they can replace their ice creams with better ones like from seventh heaven or island creamery :P Btw their ice creams r not made by themselves so they're actually ordinary ice creams.
Having such a good dinner and 3 yummy desserts
, we were almost too full to move! (J: I'm suffering from sore throat now bcos I had such a fabulous meal lol) I bet the owner, Kelvin was shocked that girls of our size could finish so much food! Bill for tonight totalled up to $41.60 for 1 soup, 1 drink, 2 entrees + 3 desserts! And
no GST
!! We will definitely come back on thursday again! Because
desserts are half-priced on tue and thur!
We will try out new yummylicious food again and
DEFINITELY our BROWNIE not to be missed!!

Cafe Oliv
220, East Coast Road
(Near Church of the Holy Family, Katong)
6-344-3114
Open daily from 11:30am - 11pm