Patisserie Glace~ A place for cake lovers... It is an authentic japanese pastry shop located in the quiet Chinatown Plaza.
(
J: So glad tt it's within walking distance from my workplace! :)
)

They were featured in many media and food blogs. Surprisingly, what Glace attracted us was not their cakes but their rin rin cheese tarts!
We tried the
Strawberry Souffle ($5)
on our first visit. Undeniably, it was a light cheese cake just like any other japanese cheesecakes topped with big strawberries. The strawberries were fresh and sweet! However, it failed to impress us.
Had
Fromage Syun ($5.80)
and
Maple Syrup Rin Rin Cheese Tart ($3.50)
on our second visit. The cheese tart left us speechless, our eyes lit up immediately and we exchanged glances. OooHhmpH WOW~ This is heavenly! Surprisingly, the maple syrup cheese tart was of the right sweetness and the strong fragrance of maple syrup flashed back strong nostalgia of the times J spent in Vancouver. The tart was crusty and buttery.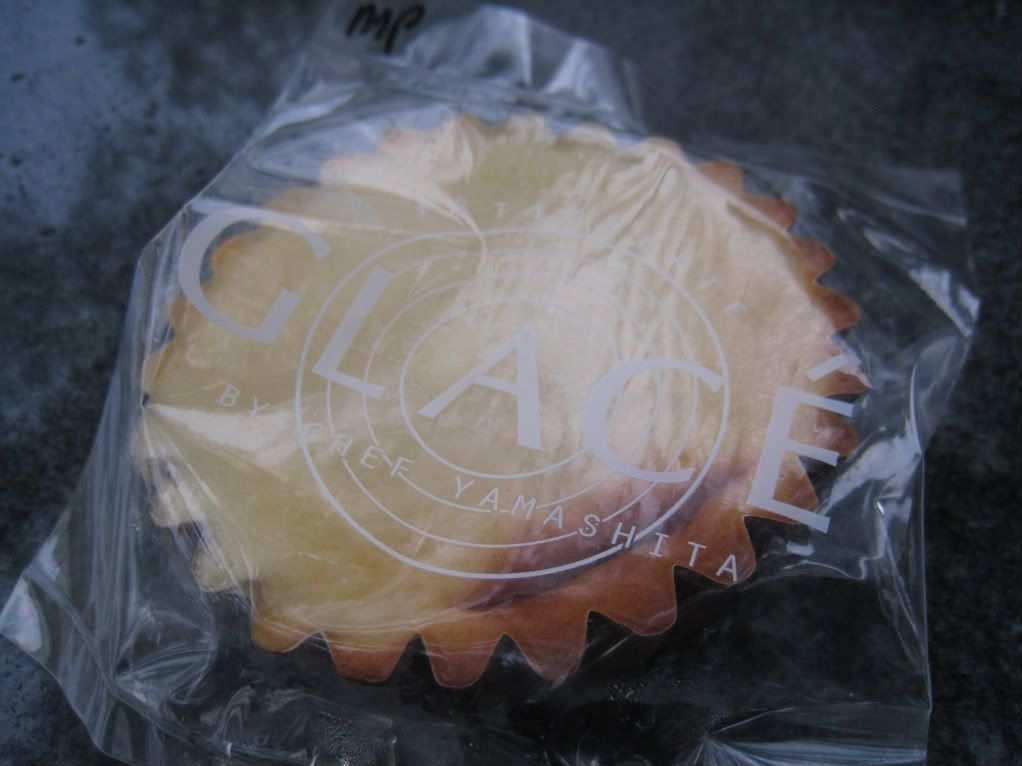 Fromage Syun left us feeling bewildered. The taste was indescribably d-e-l-i-c-i-o-u-s. We were overwhelmed with a mixture flavors. Oh, raspberry? Oh, lemon? Cheese? This is soo intriguing! Will definitely try it again and hopefully by then, we can give a better description lol.
Our tart cravings brought us back to Glace again for the third time. This time round, we tried the
Chocolate Rin Rin Cheese Tart ($3)
and
Raspberry Cheese Tart ($3)
.

Felt the rush of endorphins as the creamy chocolate cheese melted in our mouths. Dark bittersweet chocolate was used, definitely satisfying for chocolate lovers!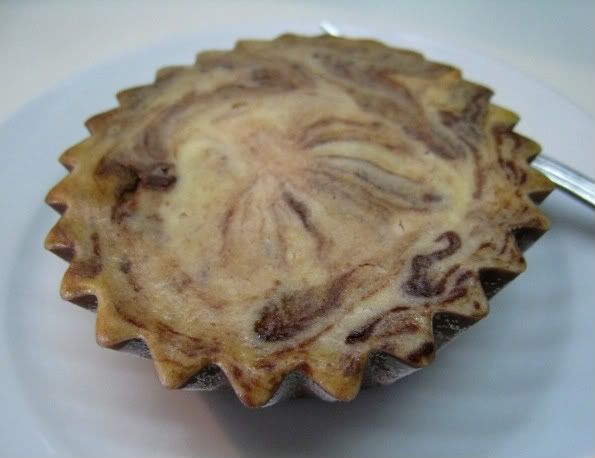 Raspberry cheese tart is basically the original rin rin cheese tart with raspberry puree filled in the centre of the tart. Cant really taste the raspberry from the swirls until we bite into the centre of the tart. The original cheese tart had a tinge of saltiness which we suppose come from the smooth, rich cheese. Raspberry puree added a tinge of sourness which complemented decently with the cheese. And as usual, we love the crispy, buttery cookie base :)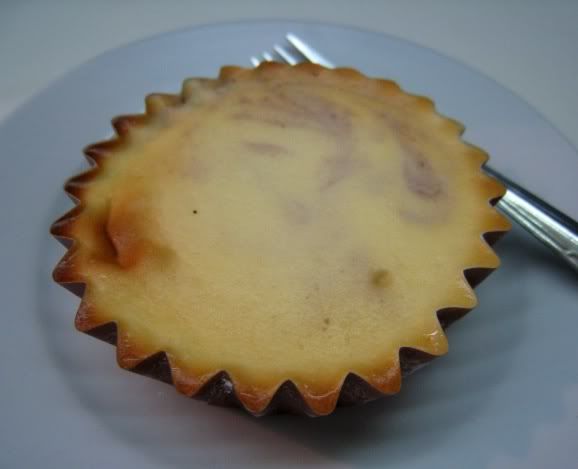 Mont Blanc $5.60
is a
Japanese perennial favourite. Glace imports the chestnut from Japan, paired with chestnut paste from France. Sadly, it disappointed us. Probably the chestnut paste was not our cup of tea. We actually could not detect any trace of chestnut from the paste, other than the small toppings of chestnuts. It felt more like whipped cream. The cake again, was the usual japanese light sponge cake.
We ended our dessert session with a Caramel Rin Rin Cheese Tart ($3). Sadly, this was the most disappointing cheese tart amongst all others we've tried. It tasted just like the original cheese tart with no trace of caramel. Maybe it was too faint to be picked up by our tastebuds.
A & J's ratings: 4.75/5 Maple Syrup Rin Rin Cheese Tart, 4.5/5 Fromage Syun & Chocolate Rin Rin Cheese Tart , 4.25/5 Raspberry Rin Rin Cheese Tart, 3.75/5 Strawberry Souffle & Caramel Rin Rin Cheese Tart, 3/5 Mont Blanc
Pâtisserie Glacé (Cadence Products Pte Ltd)
34 Craig Road #01-10
Chinatown Plaza
Singapore 089673
+65-6400-0247
Mon-Fri: 1100-1800 hrs. Sat, Sun & Public Holidays: 1100-1700 hrs