Punggol Nasi Lemak! What a great dish to end our food tour!
We've been craving for their nasi lemak since weeks ago and it was only now that we got a chance to eat!
Must order items:
Fried Chicken Wings & Tempura
! Fingerlinking goOd~
*We shared the chicken wing and tempura*
Janelle's nasi lemak:
egg, lady's finger, long beans, fried chicken wing
Angeline's nasi lemak
:
egg, tempura, long beans, ikan bilis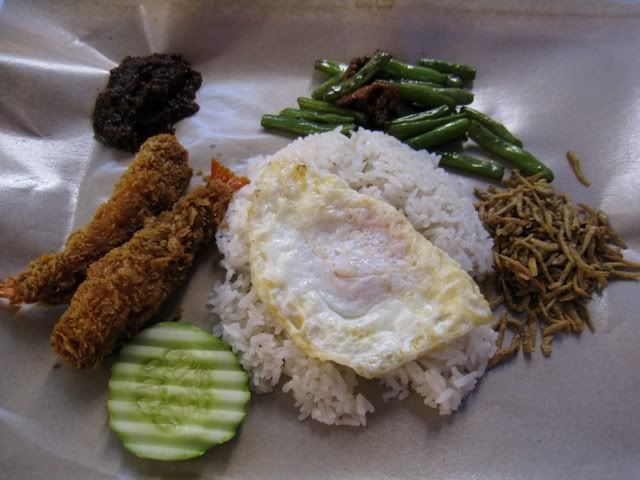 The rice was very aromatic. You could smell the sweetness of the coconut milk just by sniffing it!
(A: However, I feel that the rice was a bit sticky that day. But still delicious!)
The chicken wing and tempura was soooo
C-R-I-S-P-Y
! Prawn was sooo fresh and crunchy! Chicken wing was crispy and juuuiiccyy~ We're like OMGosssshh!
The long beans were pretty normal. We thought the lady's finger was much better. Not too soft or hard and we enjoyed biting the seeds.
A:
Janelle does not eat chilli and ikan bilis. So I'm here to try out for you guys! The ikan bilis I dare to say is the best in sg! The ikan bilis was much smaller than those I've tried outside. Fried to perfection! Crispy even till the last bite! The chilli was sooo shiok! I even asked for more chilli! It's drier and has the
Ooomph factor
!
J's & A's rating: 4.25/5 rice, 4.5/5 chicken wings, tempura, ikan bilis & chilli

Punggol Nasi Lemak
238 Tanjong Katong Road
Open 5.30pm - 2.30 am
(Closed on Thursday)