We discovered this organic vegetarian a few months ago and we glad we tried it! Patronised many times already because we can't resist the delicious food! In short, we're hooked!
New Green Pasture Cafe

was opened by Sophia Teh, lady boss.
She can be friendly and funny at times BUT beware when she's in bad mood. We could still remember how unfriendly she was on our 1st visit and how welcoming & cheerful she was on other days. Haha..
They specialise in organic food, vegetables & emphasize that they are
MSG free, Low Fat & Low Salt!
Top dish:
Soba Salad, $7.50!
We love the soba salad! It has a sweet tangy sauce that blends very well with the soba noodles & the greens. There were plenty of vegetables in the soba salad such as dou miao, carrots, pomelo, baby tomatoes, beetroots, seaweeds etc. And the best part was the crunchy brown rice crackers which we enjoyed most!
(J: I love e pomelo & I'm always digging for them!)
A's rating: 4.75/5, J's rating: 4.6/5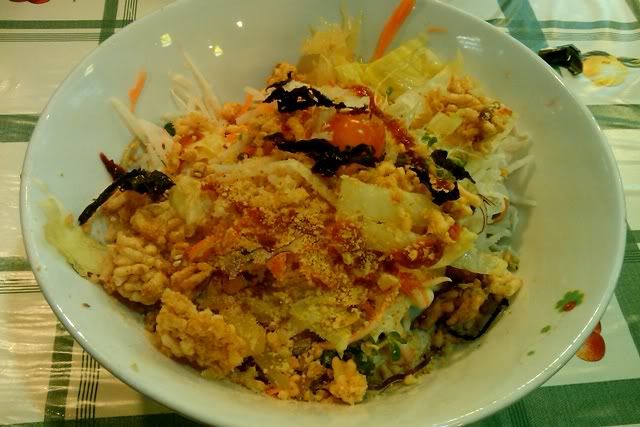 No. 2: Brown Rice Set, $7.50
It was the unpolished brown rice served with different vegetables. We like the unpolished brown rice with the husk as it is crunchier compared to the normal brown rice. The vegetables? Hmmm, ordinary & can be slightly bland to some of u but hey, tts healthy! =P Pls pardon us for e unglamorous pics as they were taken using our handphones. Will update again when I retake using my camera.
We tried this new dish yesterday & it made it to our top 3 list! Golden Pillow, $8 was made by using 5 grains bread (almonds, sunflower seeds, walnut, sesame seeds & e last we arent v sure. Shall ask Sophia e next time we visit again), toasted and stuffed with the various veggies. The sauce used for Golden Pillow was different from the soba salad and seaweed roll. It was sweet and slightly spicy. The 5 grain bread was the best we had tasted so far! Even better than Cedele's bread! Perfectly toasted to give the crispiness on the outside and the bread is soo soft inside tt u can actually easily split e loaf into half despite it having e texture of a french loaf! So crunchy with e nuts inside the bread! The serving itself is HUGE. Got to share it with someone so that you could try other dishes as well!
A's rating: 4.5/5, J's rating: 4.6/5


Seaweed roll (Vegetarian sushi roll w/o rice) $4.50
This is another dish that ladies would like. It has the sweet tangy sauce found in the soba salad combined with the different vegetables.

(A: It would make a good starter in my opinion. Very appetising!)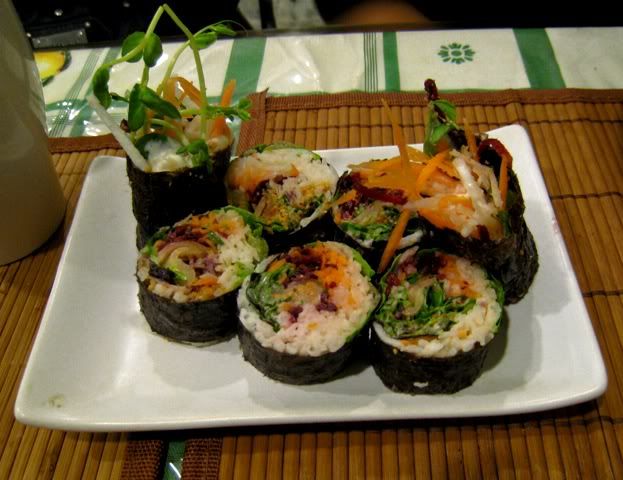 Walnut Sesame Paste, $2.50
People who would like to try a healthier black sesame paste gotta try this! The walnut sesame paste here was made from freshly grind black sesame and cooked using soya milk! It was not too sweet and heavy from the normal black sesame paste but you could still taste the individual sesame seeds! However, their quality can be inconsistent at times.
Pumpkin Chestnut Brown Rice, $9.50
(A: I love pumpkin! What I like about this dish was the nice fragrance of pumpkin mixed with the brown rice. Chunks of chestnuts could also be found in the rice.)
(J: I love e crunch from e chestnuts which added e nutty fragrance to e brown rice. However, this brown rice is alr polished & lacked e crunchy bite unlike e brown rice set.)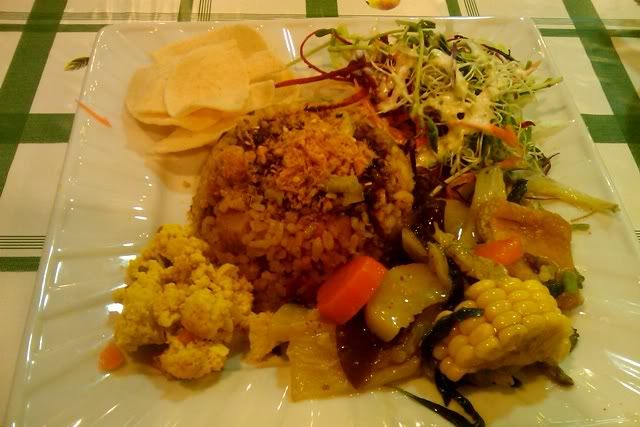 Bi Bim Bap (Hot Stone Rice), $9.50
Just like the normal korea Bi Bim Bap, the ones here was served with a spicy sauce as well but it tasted better on its own! Instead of meat and egg which is normally found in bi bim bap, mock meat (tofu) and chestnuts were used instead. Piping hot rice mixed with the greens. Couldn't stopped ourselves from eating!
(J: I love e charred rice at e bottom of e hot stone!)
New Green Pasture Cafe
190 Middle Road #04-22
Fortune Centre S'pore 188979
Tel: 63368755

Business Hours:
11 am - 8 pm
Closed on Monday