We've been to Ochacha a couple of times for their famous macha drink. Our favourite drink is Ochacha silk (green tea powder + soya milk) which is thick n creamy. Never ever order it in cold! The Ochacha silk will be diluted by the melting ice. We're back again once more to try out other yummy goodies!
*1 for 1 Mon – Fri from 3pm – 6pm!*
We ordered the matcha cotton cupcake BUT it was so disappointing!! Although it was green in colour, there was no matcha fragrance at all! In fact, it's tasteless. The texture of the cake is more of a sponge cake than a cotton cake. We did not even manage to finish half of the small cotton cake!
(A: I thought pandan chiffon cake was way nicer than this. Much softer, spongier & full of pandan flavour. LOL)
Matcha Cotton Cupcake $2.90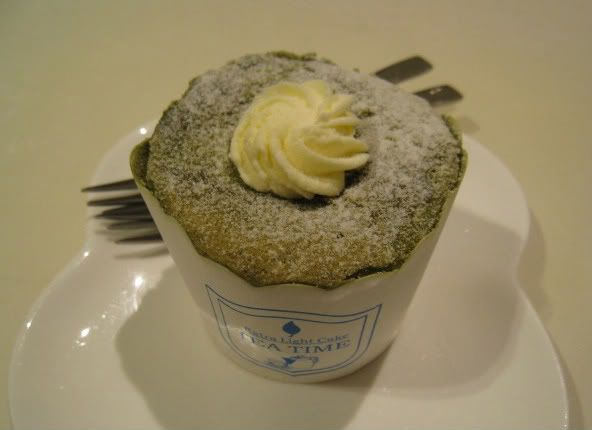 J's & A's rating: 2/5
Now came our unexpected surprise!! With the discontentment we had earlier. This Sakura Egg Sandwich definitely lit up our evening!
Sakura Egg Sandwich ($4.80)
It was DELICIOUS! We can't describe the taste BUT YOU GOTTA TRY IT! This was the BEST EGG SANDWICH we've ever tried! It's an extraordinary egg sandwich! That's why it tasted sooo good! The bread was so soft! Definitely softer than cedele's bread! We can't find any words to describe this sandwich bcos its neither sweet, sour, salty, spicy nor blah blah blah but the taste of it is certainly one of its kind... U can be sure that you will not end up in disappointment!

J's & A's rating: 4.5/5
P/S: The prices r exclusive of 7% GST.
252 north bridge road
raffles city shopping centre,
#b1-44f singapore 179103
tel : +65 63335886