After craving for a week & raving how heavenly the cafe oliv's brownie was, we finally went back again to satisfy our sweet tooth. Having read the good reviews on their soft shell crabs and lamb shank, we decided to give them a try!
Salty Egg Soft Shell Crabs Biscuit Fritter $6.90
Soft shell crabs marinated and stuffed with salty eggs breaded with biscuit fritter.
J:
I was simply bowled over when the softshell crab hits my tastebuds. This is e only soft shell crab I tried where I can find crab meat in its tiny legs & pincers. Normally for e legs, I can only taste e fried leg shell. There r also lotsa crab roe inside this softshell crab! It is also slightly saltier than ur usual softshell crab which may be due to e salty egg but not tt salty to turn u off. The biscuit crumbs make this dish absolutely crunchy & I really love their shredded sweet potato! Another surprise comes from Kevin's homemade thai mayonaise where they added thai chilli in it! I cant really taste any spicyness but this mayo is simply amazing! It's slightly sour which really whets my appetite & is my 2nd fav sauce after North Sea Fish Restaurant's homemade tartar sauce. :)
A:
Well, what else can I say?
GOT TO TRY IT!
Soft shell crab full of crab meat & roe!
J's rating: 4.6/5, A's rating: 4.5/5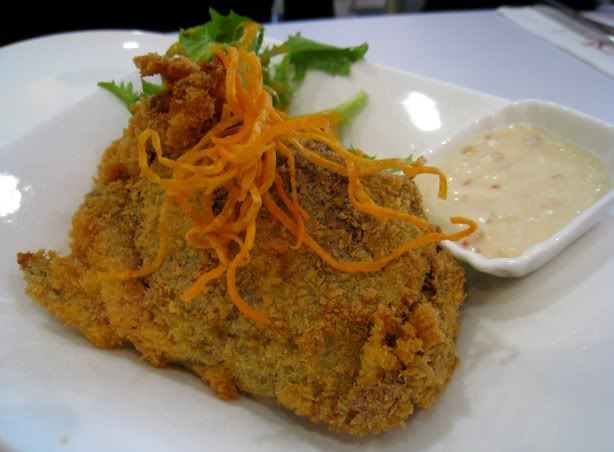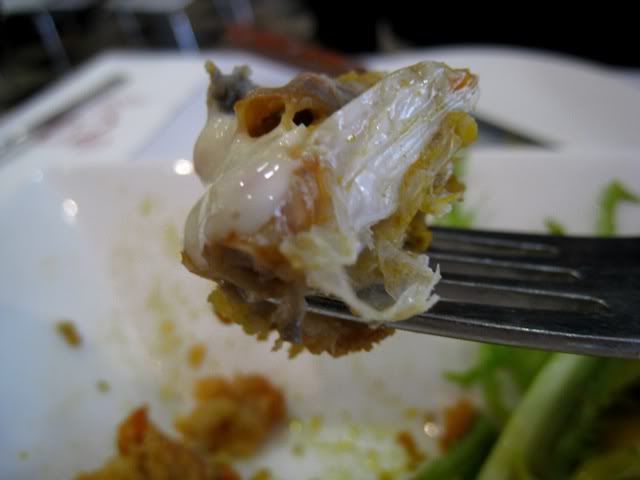 Black Pepper Pesto Chicken Rosemary Sauce
Today we had a friend along with us! Annie ordered this dish & our 1st thought was gosh, this tastes like chicken satay! The chicken is really tender & e serving is soooo BIG tt it definitely make ur money worth. Annie mentioned that it tasted better towards the end!
Tender herb braised lamb shank served with daily greens and starch.
J:
I flew to heaven immediately when I had the 1st taste of this lamb shank. It was my 3rd surprise after the softshell crab & thai mayo. This lamb shank is sooooooo
T-E-N-D-E-R
that it literally falls off when u poke ur fork into it! U dont even need a knife for this dish, i swear! Just look at its pink flesh. OMG
ahhhHHHhhhHHH
this is
H-E-A-V-E-N-L-Y
!!! It's very well braised and I particularly enjoy eating it together with the oh-so-soft mashed potatoes. I just wish e lamb is much much bigger lol. more moRE, i want MORE!
A:
How i wished i could give this dish a 5/5! BUT, there's definitely room for perfectionism!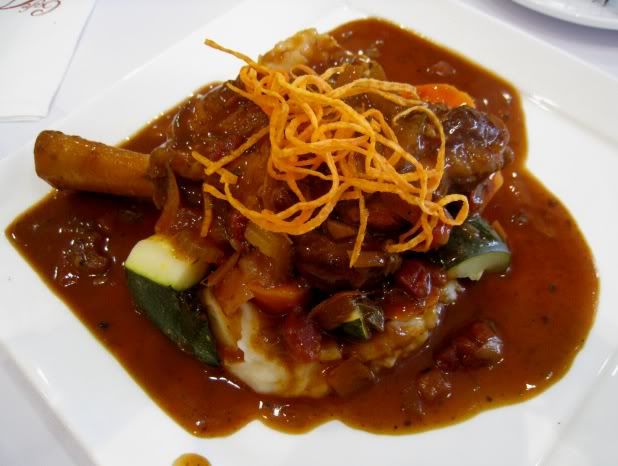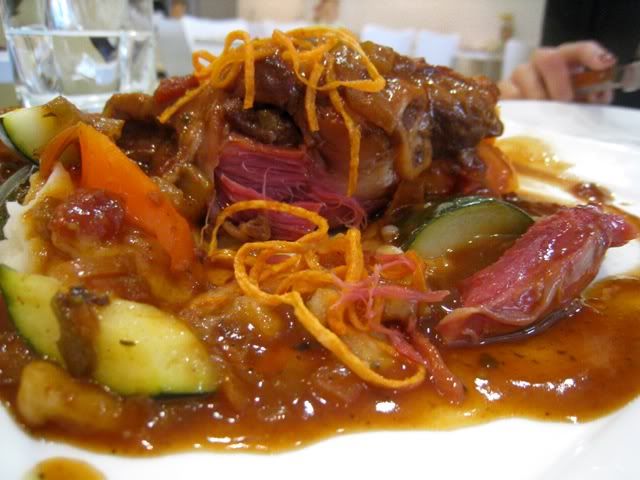 Brownie with Ice-cream $5.90
J:
We came all the way for this & obviously it failed to disappoint. Just look! The ice cream was actually melting & wobbling on top of e brownie when e waitress brought it to our tables. We had a brownie each & my 1st brownie wasnt warm enough to make me go wow. However, as usual, e brownie is choked full of crunchy walnuts & they were more generous with e cocoa powder this time round. 1 brownie was definitely not enough to satisfy our cravings & I shared another with sis. This time round we specifically requested for e brownie to be made really warm & this is it!
WOW
im loving it~ =D As u would know by now tt I have actually qt a low sweetness tolerance. The reason y i really love this brownie is tt e sweetness is just right for me & i never feel sick of eating it. Their mocha ice cream really complements well with this choc walnut brownie which at e same time, satisfy my love for coffee. Had wanted to sample their black sesame & red bean ice cream but unfortunately, Kevin told us tt they were removed from the menu cos they were not popular. Oh well, im satisfied with my mocha ice cream. :)
A:
Damage for today???
3 brownies
for Janelle and I!!!
Annie wanted to finish her brownie but she was just to full to finish it up! You can imagine how good it was!
J & A's ratings: 4.8/5 for
WARM
brownie with mocha chip ice cream
Cafe Oliv fails to disappoint once again & gave us many surprises during this visit. Will be back for more & I really hope Kevin can come up with some loyalty programme cos I can foresee tt we will be his regular customers soon. However, at this rate im eating, its gonna burn a
HUGE
hole in my wallet! :(
Refer
here
for our previous visit to Cafe Oliv!
Next on my to-try-list: Chargrilled Honey Glazed Pork Ribs with BBQ Sauce
Cafe Oliv
220, East Coast Road
6-344-3114
Open daily from 11:30am - 11pm