Decided to head to The Asian Kitchen for lunch when we can't get a table at Royal China!! >.
*We didn't reserve a table though.
Lol
! *
Was expecting something like avocado juice with crushed ice but tasted creamy?? More like
a
avocado milk shake than frost.
(A: I've never tried avocado juice before so I'm not too sure how

does one taste like

. It

was pretty exotic for me.)
(J: I want to try the king avocado juice from Mr Avocado!!)
Fried rice with luncheon meat
This fried rice was so fragrant! Not too oily & salty. The grains were firm and separated. So unexpected!
Xiao Long
Bao
($3.90 for 4)
We feel that skin was a bit chewy and the soup of the
xiao
long
bao
could be better. However, it's still worth the try for that price! We ordered 2 in the end!
(

J: The pork inside the xiao long bao isnt tt pink n juicy too.)
J's rating: 4/5, A's rating: 3.75/5
Soft Shell Crab ($8.90 for 2)
Omg
!! We love the gravy!! It reminds us of
chilli
crab! Sweet, sour & a little spicy. How we wished that they serve fried
mantou
here! The crab was full of crab meat but it could be crispier compared to the one we had in Café
Oliv
.

Café

Oliv

uses biscuit fritter which gives its soft shell crab the crispiness and we think tt flour batter was used in Asian's Kitchen. But the soft shell crab with the gravy was incredible! Without any
mantou
, Janelle and I had the gravy with our fried rice!
Yummlicious
!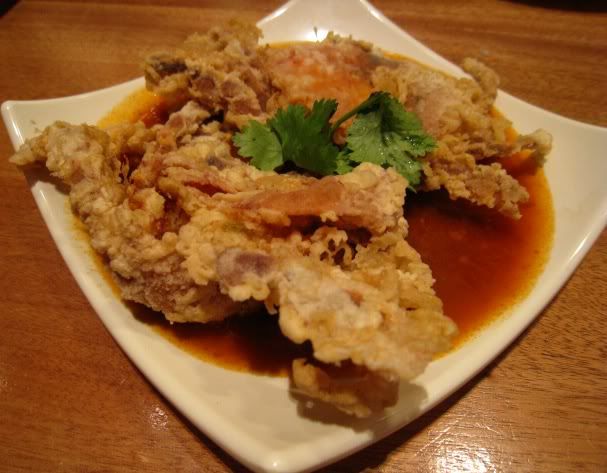 This
shui
jing
bao
was not what we expected.
(A: I supposed the skin should be transparent but it's white in colour here. The skin tasted more like mochi to me.)
(
J: I didnt really like it bcos its sticky n too chewy. I'm not sure if its e right word to describe but e red bean paste was too pastey n thick for me. I prefer the premium azuki where u can actually taste n bite e red bean in e paste!)
J's rating: 3/5, A's rating: 3.5/5
Fried banana with red bean
This tasted a bit like
goreng
pisang
with a bit of red bean paste inside.
It was served with some sweet sauce which we've yet to figure it out what it was.
Haha
..
We feel that The Asian Kitchen is still worth the visit for their price and some unexpectedly good food and exceptional services. Food were served promptly and they even changed out cutlery and serviette after our mains for desserts! Next time we would try out their la mien.
The Asian Kitchen