Food Tour Part III
There's always room for desserts, especially after a satisfying meal. We headed to Haato @marina square (inside subway) for waffles & ice cream!! Their gelato are manufactured in Singapore created from traditional recipes from Japan. Read from the website tt there's a wide selection of ice cream flavors but was kind of disappointed when some of the flavors tt we wanted to try were not there.
We are still actively searching for our number 1 waffle after the major waffle & ice cream giant, Gelare, closed down most of its oulets :( Haato's waffle is gd in terms of texture, crispy on the outside, soft n fluffy in the inside. However, we feel tt it was lacking in flavor and is pretty bland on its own. Oh yes btw, u can actually request for maple syrup at no extra cost! :) $6 for single scoop ice cream waffle. $3 for additional scoops of ice cream.
J & A's rating: 4/5 for waffle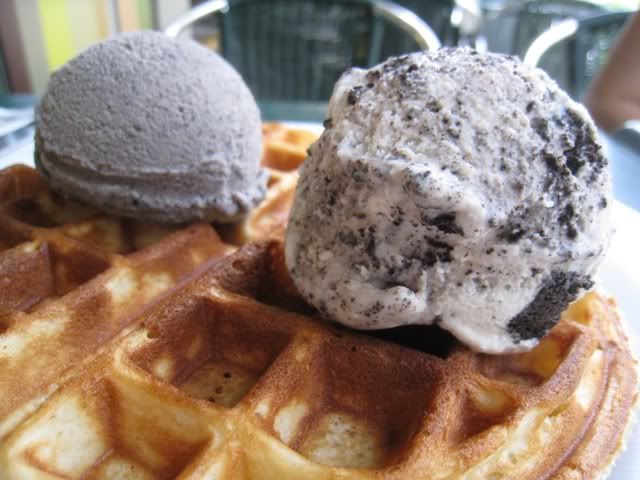 Our all time favourite ice cream flavor is cookies & cream and black sesame. Haato certainly made the mark and did not disappoint!

(J: I've always preferred cookies & cream ice cream where u can find chunks of crunchy oreos instead of the soggy ones. Scoopz @parkway used to impress me every time but recently when i tried, their oreos weren't as crunchy as last time. )

The oreos were certainly crunchy and our only complaint is tt their oreos were overcrushed, resulting in fine, tiny weeny oreo bits. Please give us some oreo chunks~
J & A's rating: 4.25/5 for cookies & cream ice cream
The black sesame ice cream was bursting with overwhelming sesame taste, yummy~ Again, we wished tt they can add more bite to this ice cream by incorporating some black sesame seeds.
J & A's rating: 4.3/5 for black sesame ice cream
We will certainly be back again to try other flavors!
Haato