J:
After our 3rd visit to cafe oliv which left us feeling disappointed & unhappy over the food & service, we were invited to cafe oliv by kevin as a gesture of apology. Seriously for me, just the service alone determines my mood for tt meal. Last week's service totally turned me off n im glad tt kevin took our complaint seriously. Not only did he reprimand his staff, he even went as far as to install CCTV to keep a tab on them to make sure tt they dont slack n provide decent service to customers. This time round, u can really tell e vast difference in service. We were promptly attended to upon entering. Water was constantly refilled n they even changed our utensils & serviette after each course which
never ever
happened before! I must really applaud kevin for this major improvement in service but i certainly hope tt this is not just a one off kind of excellent service. Well, we shall see if we do continue to enjoy this kind of service n i would be glad to pay tt 10% service charge willingly.
Back to the food, everything is on the house today. Thanks Kevin!
Gratin Oliv Herb Butter Yolk Cheese Monray Escargot $9.90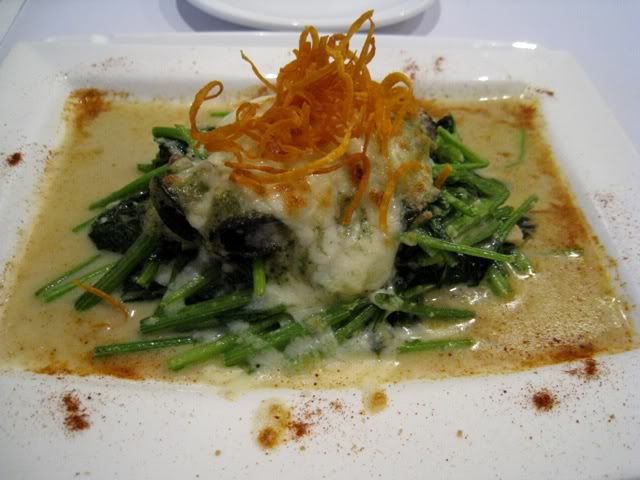 1st mouth of this sauce intrigued me as I've totally no idea what it was. It smelled fragrant & light initially. The escargots were topped with mozzarella n their signature fried sweet potato strips which r present in all dishes. The fushion of this french dish with chinese spinach makes it really unique. Upon chatting with kevin, I found out tt e sauce is actually made from white wine, pesto, mushroom n lots of butter. He came up with this fushion as he thought spinach can go well with everything n y not escargots? His creativity amazed me. However, this dish failed to impress me for long. I felt satiated after a while n e mozzarella was too chewy for me. Sis felt tt e sauce was tad too salty due to e presence of pesto & mozzarella. The stems of the spinach also added a tinge of bitterness to it. I must agree with kevin tt e escargots if presented on its own may be too ordinary but i rmb eating escargots in paris on its own too! They were seasoned well n we had to use toothpicks to get e meat out from e shells. The flavors of e Paris escargots were definitely much more intense than what we had in cafe oliv. In my opinion, I thought perhaps it would go better with scallops, but its just me :)
J's ratings: 4/5, A's rating: 3.75/5
Char-Grilled Honey Glazed Pork Belly Ribs with Barbeque Sauce $16.90 (half slab)
BBQ pork ribs coated with thick rich bbq sauce accompanied with daily greens and starch.
I ordered this dish with high anticipations as it was highly raved by many reviewers online. No doubt this was the most tender pork ribs I had in sg n u can easily separate e meat from e bones, but personally I felt tt it can be a little dry. The honey glaze added a tinge of sweetness to e ribs which was not too overpowering n i certainly enjoy eating it with their homemade BBQ sauce. However being a lazy person, I find eating this pork ribs too much of a hassle as there were many bones n separating e meat was a chore for me haha =X
A:
This dish is kind of disappointing. I was expecting more from the sauce but it's just BBQ sauce. Nth really special. But I must say the pork ribs were really tender! Don't you think this looks a bit like char siew?? LOL
J's ratings: 4.25/5, A's rating: 4/5
Traditional Braised Lamb Shank 18.90
Tender herb braised lamb shank served with daily greens and starch.
Needless to say more about this baby? Click
here
for the review on our previous visit! This is simply heavenly & I just cant stop raving on how
T-E-N-D-E-R
this lamb shank is tt u can separate e meat from bones easily just using a fork & it literally melts in ur mouth! My top entree in cafe oliv!!! I must rmb to ask kevin whats e sauce used in my next visit~ I simply adore how mushy e mashed potatoes were tt went well w e greens n lamb shank :)
J & A's ratings: 4.8/5
Warm brownie with mocha chip ice cream $5.90
If u have read our previous posts on cafe oliv, u would have noticed tt this is our no 1 heavenly dessert not only in cafe oliv, but in sg! We love u sooooo much, baby. Today's scoop of ice cream was much bigger than e previous ones tt we had... soo big tt there were left over ice cream even when i finished my warm brownie! I was glad tt e waitress rmbed we enjoy this baby being served warm n specifically inform e chef. Unlike last week's brownie which was sooo dense tt tasted like choc pound cake or even being close to a kueh, today's brownie tasted e best among all e visits. It was much softer, warmer n choked
FULL
of big chunky walnuts inside! I would never get sick of eating this~ Kevin told us tt e brownie was actually bought from outside n sometimes e supplier will change e chocolate used for e brownie. However, a change in choc shouldnt change e texture of e brownie too much right? Last week's brownie was a total disaster. Seriously even if u give it to me for free i wouldnt want it. They usually freeze e brownie n warm it when there's order n they keep e brownie for 2-3 days. I suspect tt last wk's brownie was kept longer than its shelf life but well, who knows? I hope e standard can be maintained this way soo tt i will go back for more =P
J & A's ratings: 4.9/5