Food Tour Part IV
4th Item of our 1 day food tour was.....Taiyaki! Spotted this newly opened Taiyaki at Ion Orchard and we can't resist buying one after seeing "Premium Azuki" as one of the flavours! The way they make the taiyaki is so different from the one at Takashimaya. Do have a look when you happened to be there! They have many exotic flavours which we have not seen before!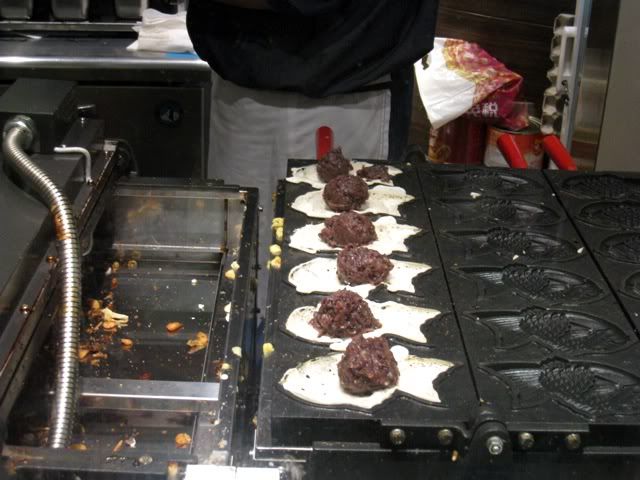 However we decided to get our
Premium Azuki Taiyaki ($2)
!

We waited for sooooo long!
Finally it's ready!
The pancake was crispy but it tasted rather plain. However, it is definitely much thinner than other taiyakis. They spread only a thin layer of batter onto the mould before adding generous amount of fillings.
You can tell from the photo that the colour of the pancake was much lighter compared to
Mr Obanyaki.

BUT, we do like the premium azuki red bean paste! Chunks of red beans were given generously and was not just the "paste" only itself! You can feel the individual azuki beans and even their skins in your mouth!

(A: We both love the azuki red beans here but I feel that I prefer
Mr Obanyaki
in Takashimaya. The pancake was more fragrant compared to the one at Ion Orchard. Why can't I have the best of both worlds?! )
J's rating: 4.5/5 azuki red bean,
A's rating: 4.25/5 azuki red bean, 3.5/5 taiyaki pancake alone

The Taiyaki @ Ion Orchard