J:

This time round our sweet tooth brought us to Seventh Heaven where u get innovative alcoholic ice cream flavors. Upon stepping into this cafe, u can c tt it is really a very open concept where u can c the preparations of ur food through the glass windows in their kitchen. One major grouse is tt its location is really out of e way! >.<
Well, we had sampled many of their flavors n i must say tt my favorite is lychee martini which goes really well with their popular warm choc cake. It is rather light n e taste of martini is really faint.
A summary of the flavors we had sampled:
Lychee Martini:

Love the taste of lychee. Light n not too sweet. Faint martini taste.
Irish Cream:

Has initial caramel bailey's taste to me n a nice undescribable lingering after taste. Sis preferred this to lychee martini.
Peanut:

This is e best peanut ice cream i've ever tried. Creamy peanut but not too heavy to make u feel sick n sinful after finishing it. Goes rather well with warm choc cake too.
Chocolate Whisky:

This flavor is rather heavy n e whisky taste is qt strong. Gets too heavy for me after a while n i dont think it will pair well with warm choc cake.
Chocolate Espresso:

I actually like this more than choc whisky bcos u can bite into the crunchy aromatic coffee beans!
Black sesame:

Very ordinary. MOF's definitely better cos u can actually bite e black sesame itself.
The real highlight must be their warm chocolate cake. It's the best I've had in sg, even better than bakerzin! They took 25min to bake this warm choc cake so u gotta make sure u have e time n patience to wait but i bet its worth e wait! The cake is crusty on e outside n super soft inside! Once u dip ur spoon into it, omg e cake crumbles n e warm choc oozes out like hot lava. Really shiok when I had it together with my cold lychee martini icecream! The warm choc is not tt heavy n sweet to make u feel sick after eating for a while unlike bakerzin but its really expensive for that small portion of cake lol. $7.80 for warm choco cake with a scoop of french vanilla icecream. Gotta top up another dollar if u change e flavor of ice cream.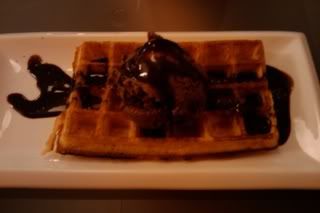 Lastly, like any other typical ice-cream stalls, they also sell waffles. The waffle is e crispiest i've ever tried but its v airy inside. There is literally nothing inside except e crust lol. Sis thought Gelare's waffles way better than theirs.
A: I'm so sad that Gelare is no longer in business! Sad!!
Now I'm in search for my next best waffles. >.<
I really like the Oozing warm choco cake. It really goes well either with lychee martini ice-cream or the irish cream! It's not as sweet as bakerzin warm choco cake. Will never be satisfying just to have one!
*you should order 2 next time. haha*
J's ratings: 4.75/5 warm choc cake, 4.5/5 lychee martini, 4.25/5 irish cream, peanut & choc espresso, 4/5 choc whisky, 3.5/5 black sesame, 4/5 waffle
A's ratings: 4.75/5 warm choco cake, 4.25/5 lychee martini, 4.5/5 irish cream,4/5 peanut, chocolate espresso. 3.75/5 choco whiskey, 3.5/5 black sesame, 3.5/5 waffle
Seventh Heaven
10 Raeburn Park,
(Former Gan Eng Seng Sch)


#01-24/25/26
Marketing Institute of Singapore
Singapore 088702
Tel: 62277787

Mon - Thurs 11am to 8pm
Fri 11am to 11pm
Sat 1pm to 11pm
Closed Sundays and PH