Hidden at a quiet corner of Joo Chiat Road,
Everything With Fries
(EWF) has attracted much crowd since their opening about a month ago. We are frequent visitors of East Coast Road area but we only came to know of EWF's existence last saturday. Clean and slick white decoration stood out among other restaurants. Chirpy young service staffs certainly added vibrancy and cheerfulness to atmosphere.
As expected from its name, every main comes with fries. You can either choose
shoestring (Mcdonalds) or straight cut (MOS Burger) fries
. There are 5 different flavours available- namely the
original, curry, salt & vinegar, sour cream & onion and garlic & herbs.
Fries for you?!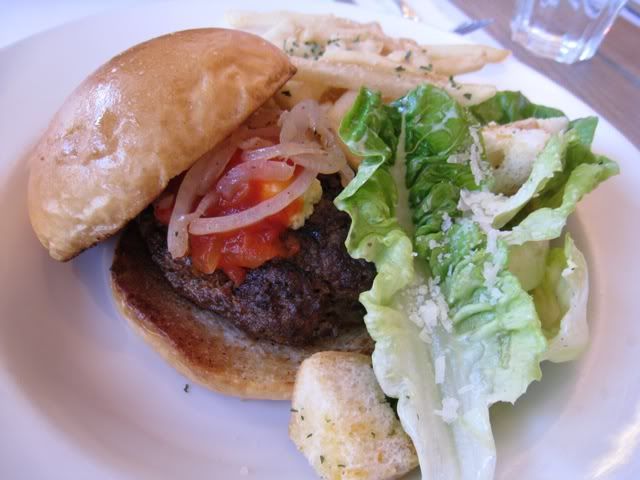 Lamb Burger ($9.90)
Medium done lamb patty was of acceptable thickness and juicyness but not too spectacular to impress. The herb cream with tomato salsa went pretty o-k-a-y with the patty. However, the patty was not well-marinated and they failed to mask the strong smell of lamb which almost made us cry out "mehmehHhh~". Definitely not for those who dislike strong taste of mutton/lamb. The bun was soft but we find it too greasy, which was literally glistening under the light as seen in the picture. To the extent that we actually thought that they had fried the bun, just like an enlarged version of fried man tou. Only then did we find out that the buns were made by themselves and they were glazed, toasted and finally grilled lightly to add an extra crisp to them. You can actually see that the sides of the bun was slightly charred from grilling. We appreciate the extra crisp but perhaps they could do without the glazing?
A's rating: 3.25/5, J's rating: 3/5
Breaded Salmon ($13.90)
Pink salmon flesh separated easily from the crispy breaded skin. However, we felt that the salmon tasted rather bland on its own and we did not particularly take a liking to the lemon sauce which was drizzled at the sides.
(A: Lemon sauce was a little extreme for me. I would prefer cream sauce instead.)
A's rating: 3.25/5, J's rating: 3/5
Flavors of fries we've tried:
We love the S
our Cream & Onion fries.
It was well seasoned with sour cream powder and the fries were crispy. Taste was almost similar to that of Pringles Sour Cream potato chips!
Although there was a glove of garlic sitting comfortably on the
Garlic & Herbs fries
, we could hardly detect any taste of garlic or herbs. Perhaps they can add more garlic powder to it??
J & A's rating: 4.25/5 sour cream & onion fries,
J's rating: 3.25/5 garlic & herbs fries, A's rating: 3.5/5 garlic & herbs fries
The caesar salad was topped with shredded cheese and home-made croutons, which was nothing extraordinary.
What other way than to end our dinner with a lovely dessert?
We love hazelnut and
chocolates.
Hail to the noble person who came up with chocolate hazelnut, brilliant! We fell in love with chocolate hazelnut since the day we ate french banana nutella crepes in Paris. Hot piping crepes in the freezing cold weather simply blown us away and brought us the timely warmth and glucose rush. We've been
loving
it
since
then.
How could we resist the calling of this lovely nutella tart which seemed to be waving and smiling at us?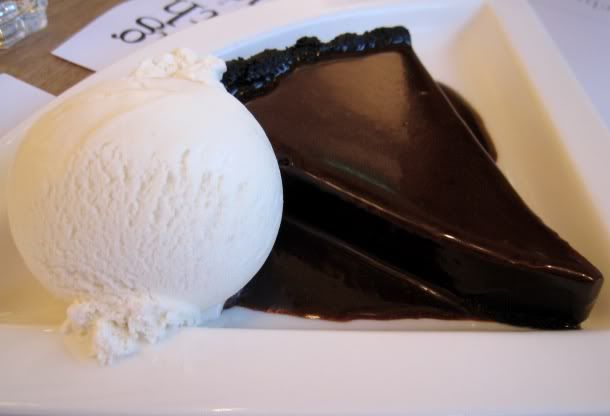 Nutella Tart with Vanilla Ice-cream ($4.90 + $1.80)
We love the pairing of hot & cold dessert together. Since the staff assured that the tart would be served warm, we decided to add a scoop of vanilla ice-cream to go with it.
First bite
, hmmm
Second bite
, nutella?
Third bite (really eating very slowly)
, where's our nutella??
The nutella tart filling was custardy and even with the nutella sauce drizzled on top, we could hardly detect any trace of nutella. Perhaps it was the crunchy oreo cookie base that overpowered the nutella taste. Vanilla ice-cream was icy and tasted like those found in the supermarkets.
(A: The only thing i enjoyed about the nutella tart was in fact the cookie base! haha. Next time just give me nutella I will be satisifed.)
(J: I felt like I'm eating chocolate tart rather than nutella tart. It can be a little sweet and heavy for me. Another grouse was that the tart wasn't as warm as I expected. Cookie base was good though.)
A's rating: 3.5/5, J's rating: 3/5
We can't say that we're totally satisfied with the food at EWF. Having tried their mains and desserts, only the sour cream & onion fries seemed enjoyable. We may return to try other desserts like peanut butter cupcake and vanilla eclair, or even their nutella shake. But for the mains, there're many better choices nearby.
Everything With Fries
458 Joo Chiat Rd
Singapore 427671
Tel: 6345 5034
Operating Hours:
Daily: Noon - 10pm
(Closed on Mon)