Happy Birthday Angeline!
We apologize for the lousy photos as we did not plan to blog on any food today. But having eaten the Checkers Deli's fabulous cakes, we decided to share with you guys!
A:
Sis bought the famous
American Cheesecake (left)
and
Hazelnut Royaltine (right)
as a surprise for me! Was sooo touched as I thought she's going to buy from Obolo! What a sweet surprise! :)
The
American Cheesecake ($7.80)
was neither too rich nor heavy. Nice buttery base tickled our tastebuds :P The texture of the cake was slightly more crumbly than smooth. There was a faint taste of lemon zest too. We would prefer it if the cheesecake is more creamy and with the "melt in the mouth" texture, just like the one from
B Bakery
. Nonetheless, it was a great cheesecake.
A & J's rating: 4.25/5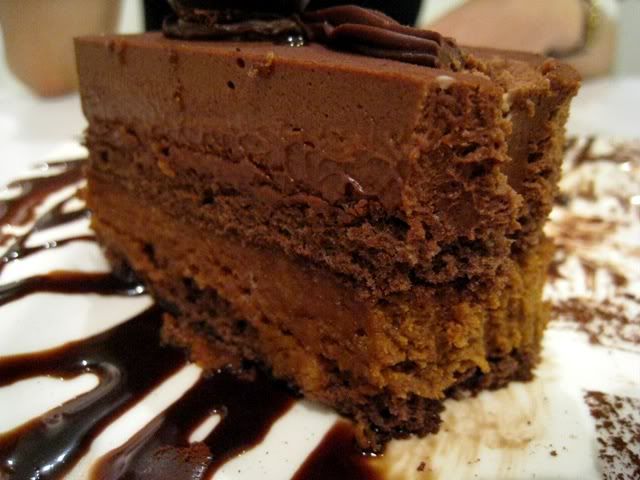 The
Hazelnut Royaltine ($6.50)
was heavenly! Thick crunchy hazelnut praline, smooth chocolate mouse with hint of dark bittersweet chocolate sandwiched in between. Fabulous~ It tasted just like a thicker version of ferrero rocher. It was so rich and yet not too overwhelming to make us feel sick. We love the crunchy hazelnut praline most. This cake even won our hearts over from
King C
! Our No. 1 cake for now! All hail hazelnut royaltine!
A & J's rating: 4.75/5
Checkers Deli
Hilton Singapore
581 Orchard Road
Singapore 238883
Tel: 6730 3392