A:

Remembered the times where I used to buy hot pandan waffles from a bakery on my way home after school. The smell of hot pandan waffles was so irresistible! It would always be my before meal appetizer and I always loved the chocolate fillings in the waffle. Hot and crispy waffles with chocolates oozing out, it was divine! It may be the best comfort food for me, at least.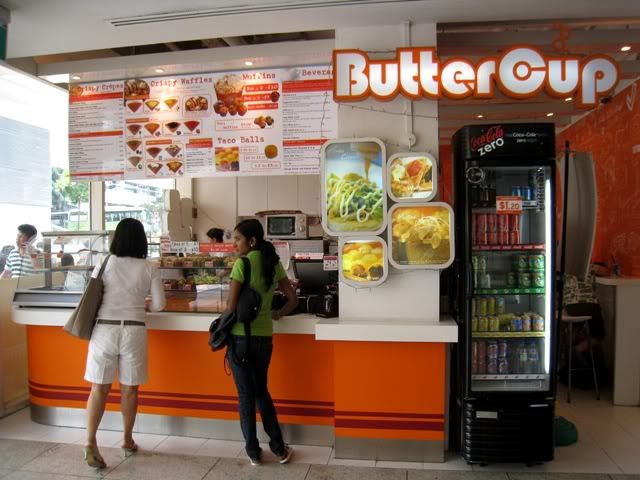 We were at Square 2 where Janelle and I spotted Buttercup & PrimaDeli. Both selling our favourite food: waffles! We decided to try out Buttercup waffles first because we saw that they have chocolate+banana & nutella for the fillings. We ordered one waffle with nutella+banana with additional 60 cents! Seems like nutella is more expensive than chocolates. =.=
Combination of nutella & banana reminded us of Paris where we stood out in the cold weather and had a large crepe (nutella+banana) by a crepe kiosk. It was heavenly.
Despite the fact that the staffs were taking their own sweet time to serve our waffles (which caused our waffle to turn cold due to over fanning), the waffle remained so crispy! This was the first time where we ate a cold waffle and it was still crispy. Other waffles that we tried turned soggy upon cooling. Needless to say, we love it especially with the generous amount of nutella & banana. Guess it could be better if the waffle is hot. The waffles at Buttercup was not the usual pandan batter. A yellow batter perhaps with eggs mixture that add to the crisp of the waffle? Haha..not too sure about that. It's their secret. Shhh…
J's & A's rating: 4.25/5

We then headed over to PrimaDeli which was just beside Buttercup to try out the traditional pandan waffle. This time we had peanut butter fillings. We thought that the waffle will be crispy, but it turned out soft. This will not be the kind of pandan waffle that we're expecting. Peanut butter was alright but became a bit sticky after a while.
J's rating: 3.25/5, A's rating: 3/5

Next time when we are at Square 2, we will definitely choose Buttercup over PrimaDeli. Given the fact that they sell crispy waffles & crepes! Next time we will try out their crepes! Hope it will reminisce our memories in Paris.


Buttercup
Square 2 (Novena MRT)
10 Sinaran Drive #01-19
Singapore 307506
Tel 6397 6059
http://www.buttercup.com.sg/