Remember we used to frequent this original Ya Kun Kaya Toast when we were young. They're famous for their ultra-thin crispy toasts which make us wonder if they are the first to come up with this. Ya Kun has many franchises located all over Singapore but undoubtedly, we still think that this original stall maintain the best standard.
When the half boiled eggs were presented before our eyes, we were already very much impressed. They were runny and boiled to perfection. Definitely satisfying to dip our toasts into them!
How can we miss out on Ya Kun's famous kaya toast? They were soo thin and crispy when they're hot. However, they failed to retain the crispiness upon cooling, unlike
Tong Ya
's ultra crispy toast. To our utter disappointment, the toasts tasted 'lao hong' when they cooled down. Kaya wise, pretty decent sweet, smooth kaya but we prefer
Good Morning Nanyang
's eggy, clumpy kaya. It's not as sweet and has stronger kaya fragrance.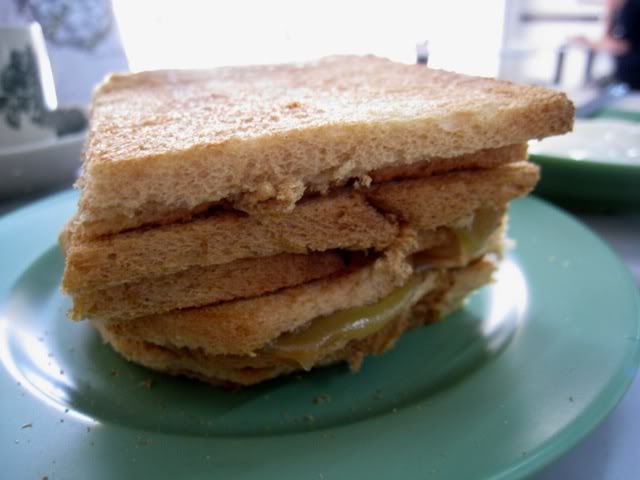 This is Ya Kun's new addition to their menu, peanut butter toast. The peanut butter reminded us of the ones we always find in older days kopitiams. Traditional liquid peanut butter that's not as thick and sticky as Skippy's peanut butter. Perfect with traditional toasts or steamed lothi! Our only grouse is that too little peanut butter was spread onto the toasts, thus lacking in the shiok factor.
J's rating: 4/5, A's rating: 3.75/5
Ya Kun has definitely built up a strong brand over the years but with the emergence of strong competitors, they certainly have to put in much more effort to ensure consistency in quality across all its outlets and improve on their specialty to give it an X factor in order to stand out from the rest.
Far East Square
18 China Street #01-01
Singapore 049560
Tel : 6438 3638
Monday to Friday : 7.30am to 7pm
Saturday and Sunday : 8am to 6pm
Public Holiday : Closed