Located at Ion Orchard, this Japanese casual restaurant sure stirred up a big hoo-ha. Long queues could be seen especially in the evening. The ambience was not bad and the wooden decoration in the restaurant was indeed distinctive.
We were there around 6pm and were lucky that there wasn't any queue at all. Highly enthusiastic and friendly staffs greeted us and led us to our tables. The service provided was really commendable. Napkins were handed out to us individually and drinks filled up promptly. We were astonished that the staffs actually knelt by the side of our table to take our orders. You will not experience this kind of service at all either in Ichiban Boshi or even Sushi Tei.
This sashimi platter consists of salmon, tuna and hotate (scallops). We had many complaints about the salmon and tuna sashimi. The size of the salmon and tuna sashimi was probably half the size you find in Sushi Tei and they were not very fresh, with a slight fishy smell. Fortunately, hotate sashimi tasted better. It was fresh, fat and juicy, with a slight sweetness. Absolutely heavenly!
J's & A's rating: 3/5 for salmon & tuna sashimi, 4.25/5 hotate sashimi
Kani & Hotate Cream Croquette ($5.80)
This golden crispy ball was delicious! The cream exploded into your mouth when you bite into it. But there wasn't any sight of kani and hotate chunks.
(A: I would prefer to eat croquette full of kani or salmon flakes)
J's & A's rating: 4/5
Irodori Sushi Grandeur - scallop, seafood salmon & eel ($10.80)
The sushi here was pretty ordinary. The rice was dry, sticky yet still crumbly which caused the ingredients to fall off very easily. The fillings inside each sushi is the same, except tt the toppings were different.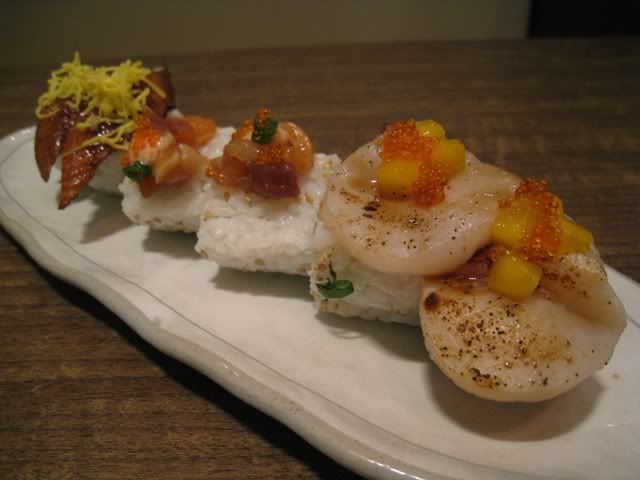 J's & A's rating: 3/5
Omelette with sliced pork and cabbage, this dish took the longest to arrive. The egg was dry and thin, with the sides slightly burnt unlike the ones in Shokudo or Waraku which are thicker, sweeter and more fragrant. Nothing special for the sauce too.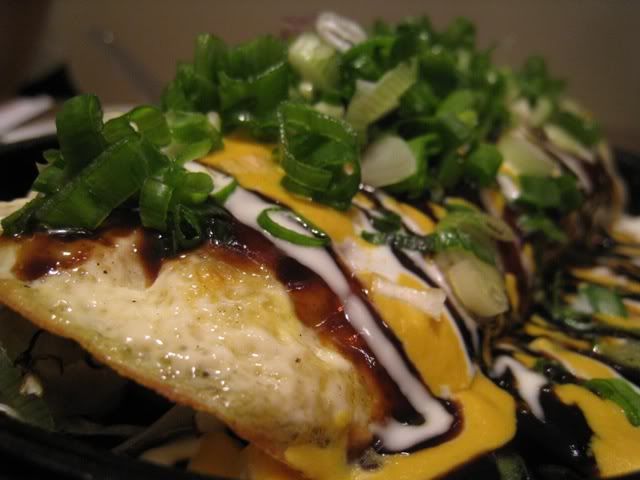 A's rating: 3/5, J's rating: 2.5/5
We did not order any dessert this time round because the food did not impress us. We know there were many good reviews of Watami but the quality of their food failed to meet our expectations. Nonetheless, the service here was praiseworthy.
Watami Japanese Restaurant
#B-23 Ion Orchard
2 Orchard Turn
Singapore 238801
Tel: 65099366