"This post is dedicated to my beloved sister. May all the troubles be far away from you. You know I will always be by your side.

Angeline"
Away from the bustling city,
Away from your troubles and thoughts,
Let your body & mind relax at this a serene landscape...
Look at you, you are so beautiful...
Looking up at you, it's so pleasant to be there.
With you, sheltering us from rain and shine...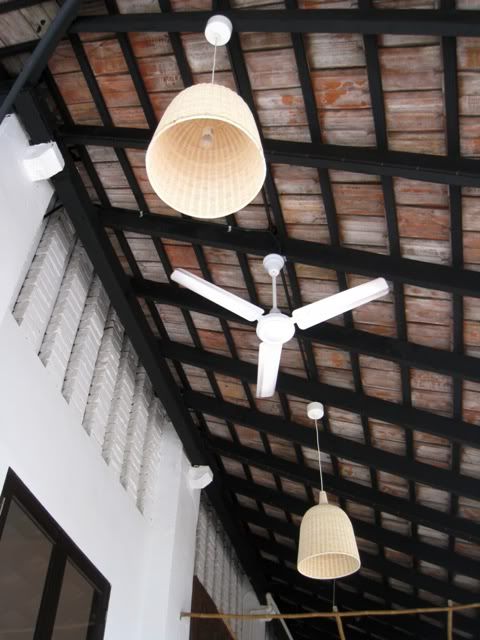 With me, side by side with you, you know I will always be there...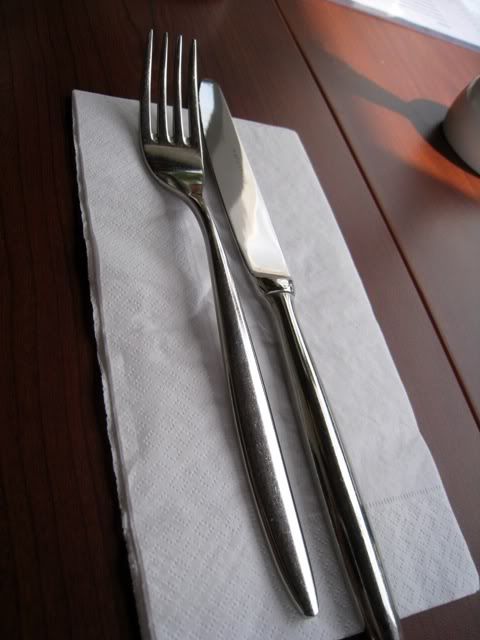 We love breakfast and lunch, brunch it is... Enjoying every moment, right from the start till the end...
We think of you, day and night,
Remember the memorable times when you embraced us with love,
And there we were, looking right at you...
Crispy yet not too oily bacon with the lava yolk was such a pleasure. Love the thick ham hidden beneath the wonderful poached eggs, which were not sourly drenched in vinegar like the one from
Oriole Cafe
. The hollandaise sauce was full-bodied with buttery flavour. But we were expecting more from the sauce, maybe the one we had in London raised our expectations too high.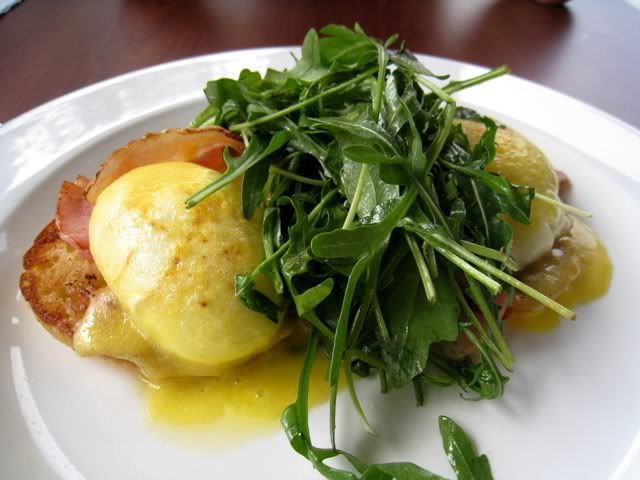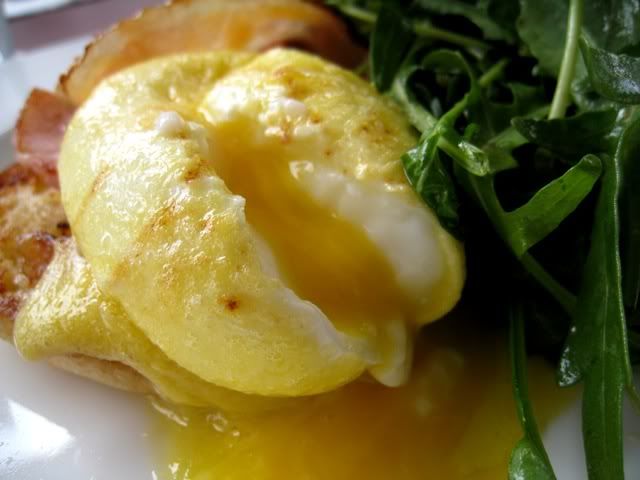 J's & A's rating: 4/5
Scone with honey comb butter ($1.50)
Scone wasn't spectacular, not the crumbly soft type that we like. It tended more towards the cakey side. But the honey comb butter definitely lit up our eyes and tastebuds. Tinge of sweetness in the buttery goodness, yummy~
J's & A's rating: 3/5 for scone, 4.25/5 for honey comb butter
Mini Apple Strudel ($1.20)
The apple strudel was delightful but it would be better if it was warmed. The crust would be more crispy. Sadly though, there wasn't a lot of apples in the strudel.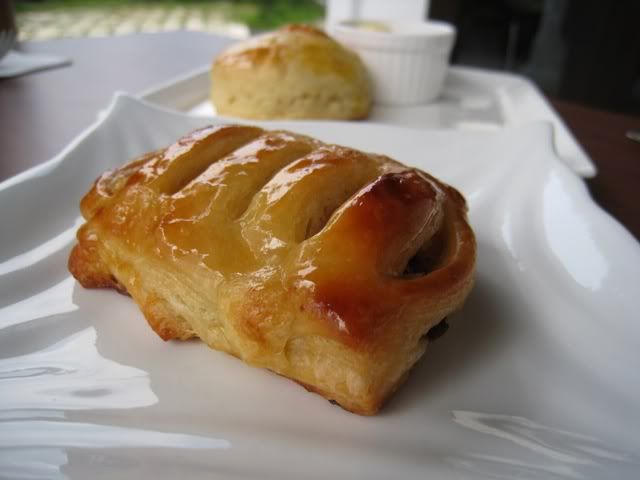 A's rating: 3.75/5, J's rating: 3.25/5
Peanut Butter Crunch Cake ($6.80)
Rich chocolate ganache was intense and not overly sweet. However, it may be too rich that it overwhelmed the peanut butter flavour. We enjoyed the peanut butter crunch. It was similar to crunchy hazelnut praline.
J's & A's rating: 4/5
Last but not least, a sweet end to our brunch.
Sticky Date Pudding with Vanilla Ice-cream ($10)
Sticky date pudding was so rich yet light, surprisingly not too sticky nor dense. Its texture reminded us of tapioca cake, or even
Food for Thought
's red velvet cake. The butterscotch sauce was absolutely divine, bearing a close resemblance to toffee. Warm sticky date pudding with vanilla bean ice-cream was heavenly! This vanilla bean ice cream was the best we tasted so far, rich and creamy.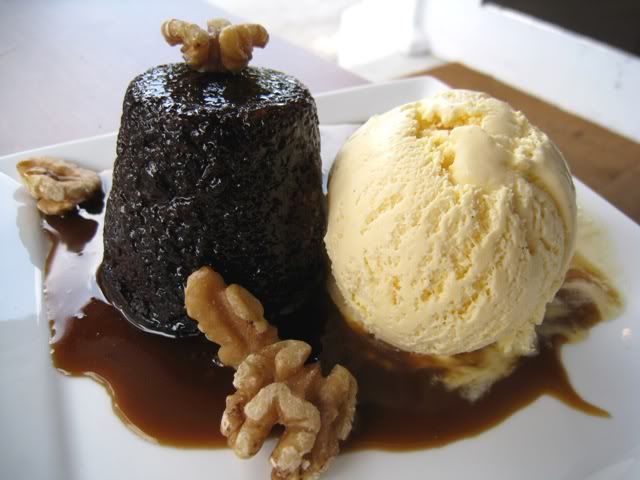 J's & A's rating: 4.5/5
It was a fabulous brunch at Cafe Hacienda. Despite being desperately short of manpower that day, service was still satisfactory. However, the cafe can get a little busy on weekends. All tables were reserved till 1pm! Be sure to call for reservation!
J: Many thanks to my beloved sister, you are the sweetest and the best sister I could ever have in the world. Glad to have u supporting me by my side. Love ya loads! *hugz*
Cafe Hacienda
13A Dempsey Rd
Singapore 249674
Opening hours: Daily 9am till midnight

Tel : 65762922