Can you believe we actually went straight for dinner after ieat Udders makan session?
We were incredibly full after that. Haha..The result of our gluttonous.
Heard of how keropokman went back there 3 times in a row and we've been wanting to try it out! And there we were, stomachs full of ice-creams & waffle, we went into the cosy korea restaurant at 6pm for dinner. That's pretty early for our meal! Oh well, we were too lazy to come back again later. Especially it is located far from our place!
We were the only ones inside the restaurant but people started streaming in after a while. Soon after we placed our order, the waitress served us MANY banchan (side dishes)!
We kept thinking:
"Will we be charged for all these?"
We later found out that it was complimentary for all orders! On top of that, they even served a huge jug of tea. They were really generous with the appetizers and side dishes!
One, two, three....TEN of them!
We enjoyed eating the fish and kimchi the most. This was the first time we had one whole fish as side dish and we did polish it off!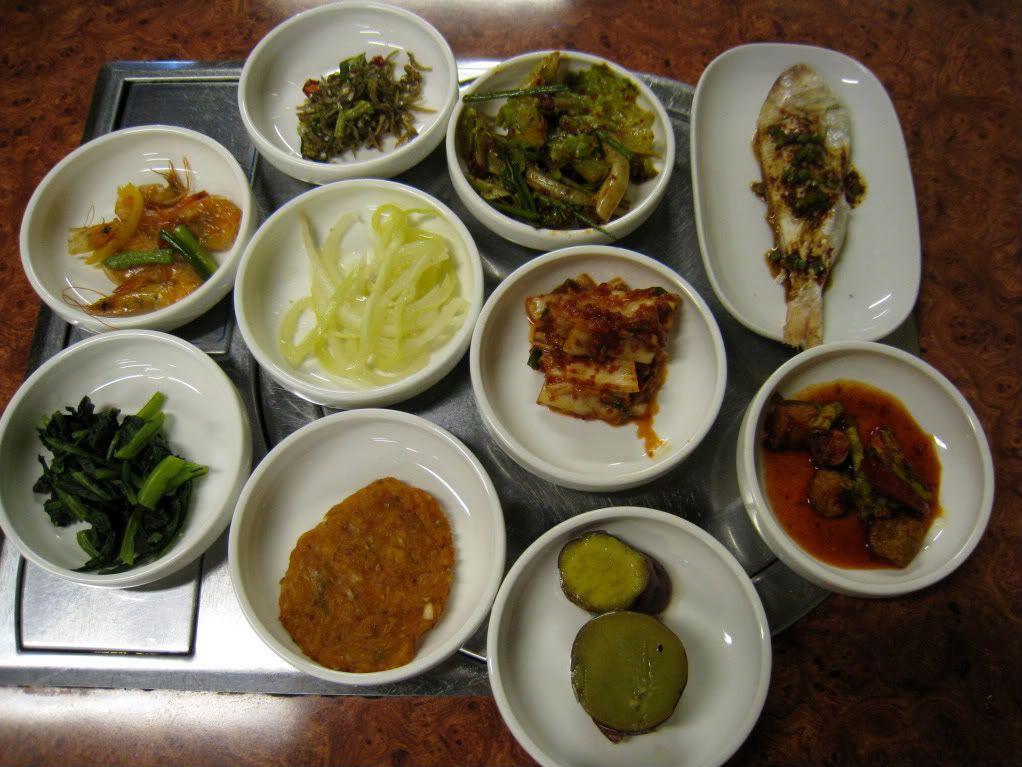 Full of all the healthy vegetables, this was indeed a heart-warming dish. We threw in some of the sides dishes (kimchi, long beans etc.) in as well. Each mouthful was packed with all the ingredients. However, the beef slices were a bit tough, perhaps next time we should eat the beef slices first.
(J: Would love it even more if the rice is more charred at the bottom haha)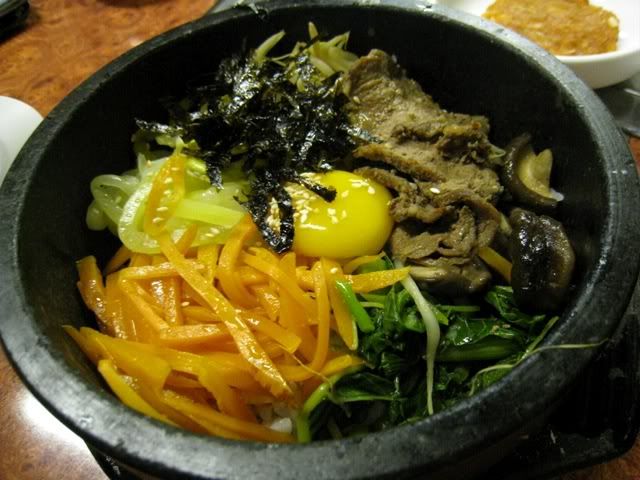 And here comes our
bubbling hot Tofu Stew ($11).
There was an incredible amount of ingredients inside. It consisted of tofu, egg, pork, clams, prawns, squid, leek etc. The seafood added sweetness to the soup and together with the spicy soup, it was really shiok ah! We almost finished off the entire pot of soup!
Dinner ended with a complimentary watermelon and cinnamon ginger tea each

.
It was a very pleasant dinner. Total bill was $23.10 (after 10% service charge). And for the price you pay at normal foodcourt, just top up a few more dollars here you get a wide range of side dishes! Besides,
they do not charge GST!
We can't help but to say: "It's really cheap ah!! We will be back for more!"
Kim's Family Restaurant
17 Lorong Kilat,
Kilat court #01-06,
Tel: 6465 0535