This week, for no reason, we decided to go "Indiana"! There we were, strolling down the streets at Little India, we found our small palace located right at Chander road. Ghurka Palace Restaurant caught our attention as they serve authentic Nepalese and Northern Indian food. We never had Nepalese cuisine before and hence we decided to try it out! Sitting in the "palace" made us feel homely and cosy.
We were indeed just like Queens to be served.
*We were the only customers in the restaurant then. Haha*
Complimentary Papadum with Mint sauce
was served swiftly after we placed our order.
The mint sauce was really refreshing and good! It went pretty well with the keropok. Salty, sweet and minty.
A unique taste indeed!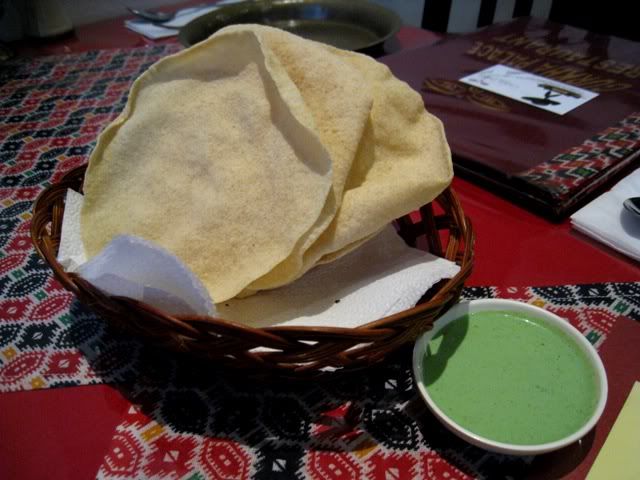 Chapati, $1.50
For only $1.50, you get 2 large pieces of chapati! The soft chewy texture goes very well with the butter chicken. However, our jaws were aching from chewing the chapati as we left it to the last.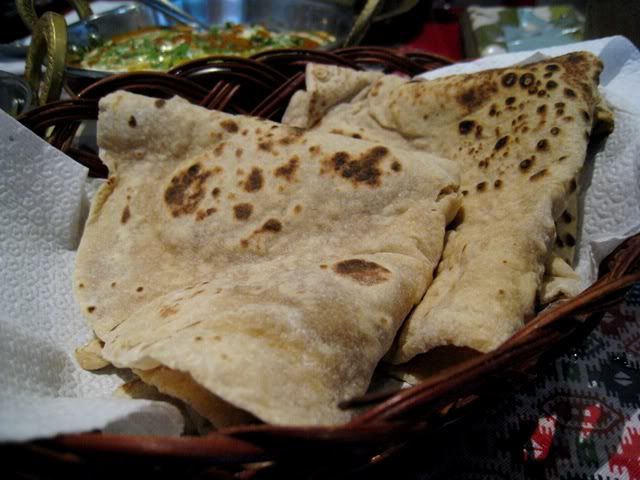 J's & A's rating: 3.5/5
Cheese Naan, $3.50
The cheese naan here tasted like plain naan. We couldn't detect the taste of cheese, only a thin layer was spread onto the naan which added slight saltiness to it. However, we do love the softness and crispiness of the naan.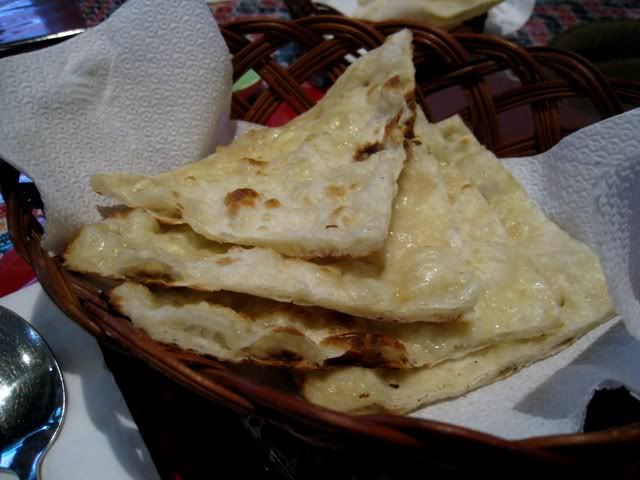 A's rating: 3.5/5, J's rating: 3/5
Kukhura Makhani (Butter Chicken), $8
We ordered this dish as it was highly recommended by the waiter. Kukhura Makhani is actually chicken marinated with Nepalese herbs, tender cooked and serve with creamy butter gravy. The creamy and tangy gravy reminded us of japanese curry except that it was non-spicy. The gravy infused with herbs and spices was very addictive! We kept dipping our naans and chapti into it. Besides, the chicken morsels were very tender and succulent!
*The butter here refers to 'malai' or cream*
J: I can't really taste the butter from the sauce. The 1st mouthful actually turned me off as I felt it was too salty for my palate. However, I eventually found it to be a better dip than Daal Makhani! Perhaps due to the thicker gravy used in Kukhura Makhani, the full-bodied taste left a lingering aroma in my mouth, which made Daal Makhani taste more bland after a while.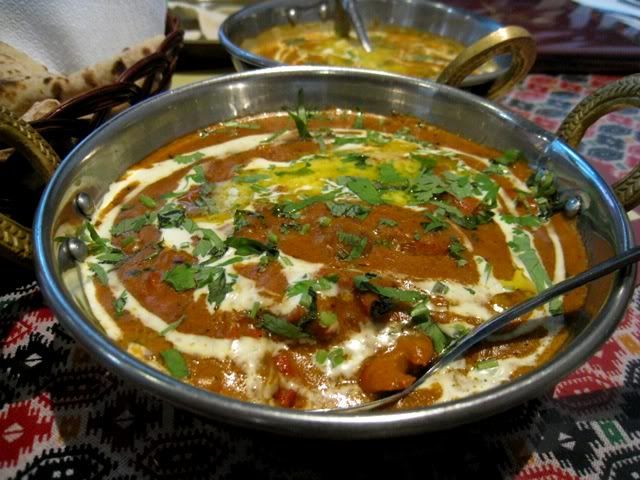 J's & A's rating: 4.25/5
They gave generous amount of chicken morsels! So much that we actually ordered additional garlic naan later on to go with the gravy dip.
Garlic Naan, $2
The garlic naan was much better than the cheese naan. Intense garlic flavour was so satisfying that we can almost keep zombies at bay lol. It tasted exceptionally palatable when eaten hot!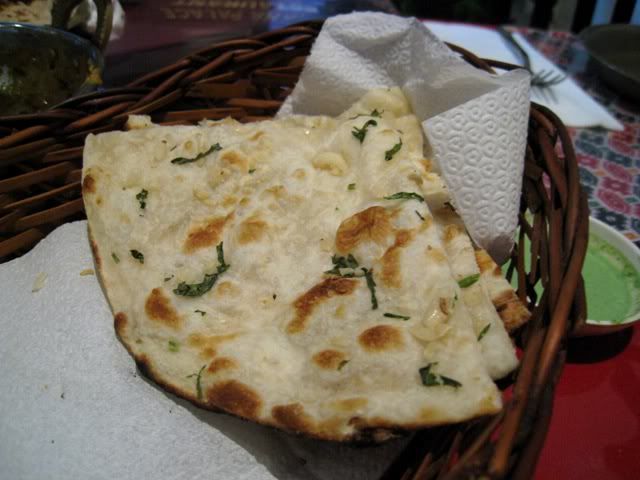 A & J's rating: 4.25/5
Our way of eating:
Tear off a small portion of the naan and wrap with it around the chicken morsel. Yummy!
Daal Makhani, $5
Daal Makhani is a delicacy from Punjab in India. This thick stew was prepared using black lentils and red kidney beans which were cooked and simmered for hours. This savoury stew has a slight sweetness with a minty flavour. It was a great match with the naans, and even on its own. Love the beany bites! Perhaps due to addition of the various spices, for the 1st time we could actually accept the Makhani even though they added lots of disgusting coriander leaves!
A's rating: 4.25/5, J's rating: 4/5
Dinner at Gurkha was pleasant. The service here was attentive and fast. Food were served promptly. In addition, the waiter was very friendly and knowledgeable. He gave excellent recommendations and took effort to explain each dish to us.
Kudos to him!
Besides, Gurkha already have their
groups of loyal customers.
We could hear many regulars saying
"We are back again!"
We've yet to try out the butter chicken and daal from other restaurant. The rating given is based on our first impression of the dishes. But in general, we must say the food here is really reasonable and delicious!
51 Chander Rd
Tel: 62924316
Lunch: 11am - 3pm
Dinner: 6pm - 11pm