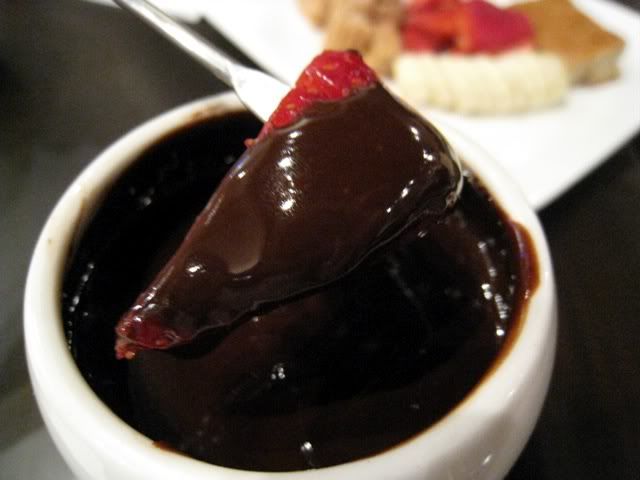 "More than anything, I'm in love with chocolate
Chocolate is part of my childhood memories, reminding me of my Mom and Dad
Returning from trips abroad with a suitcase full of chocolates wrapped in cracking colourful paper.
It reminds me of Grandma, hiding chocolate candies in a tin box inside a big wooden cupboard.
It's part of my youth.
And it reminds me of Ana, my first love.
I'm mesmerized with the history of chocolate, and I'm entranced by the nostalgic stories around it, which carry me back to long gone romantic days.
Chocolate is passionate. It's sexy and prestigious, and I always start my morning by eating a tablet of milk chocolate with nuts.
I invite you to watch, smell and taste my love story."
Max
How touching...
Just like Max, the founder of Max Brenner, we were mesmerized and captivated by chocolates too.
There we were, sitting in Max Brenner, hoping to enjoy an entrancing chocolate fondue.
But sad to say, Max, we ain't enjoying your chocolate as much as you did.
For the
C
ouple Fondue ($20)
, you have a choice of milk and dark chocolate. We decided to get two dark chocolate as we love the intense bitterness of dark chocolates. Still remembered the phrase we saw in Interlaken, "A dark chocolate a day keeps the doctor away~" How true?! When it arrived, we were shocked at the size of the fondue. It looked more like chocolate dip than fondue, with miserable serving of dark chocolate. The chocolate was served in a small pot, with another pot of steaming water sandwiched between the chocolate and the tiny candle. However, it failed to warm the chocolate enough to give it an extra o0ompH factor even though we do acknowledge that placing the chocolate directly over the flame may burn the precious chocolate. The chocolate was rich, but it was not bitter and warm enough to impress us. We wouldn't classify this as dark chocolate at all. In fact, we find tt eating
Sweet Stone Parad
's chocolate dip more satisfying. At $20, we can buy 8 set A (1 waffle + 1 WARM choc dip)! Eat until shiok ah!
Fondue set comes with fresh fruits and banana bread (pretty tasteless). The "petty chocolate dip" was not enough for us to dip a whole fruit in it! Frustrated as we were, we still polished the chocolate off, leaving behind many fruits without any dips.
We also ordered
Churros $3.50 (bottom right).
There were only a few pathetic churros! Churros is a cinnamon sugar coated dough stick with taste like fried youtiao to us topped with cinnamon sugar.
(A: Youtiao tasted much better. haha!)
It was disastrous.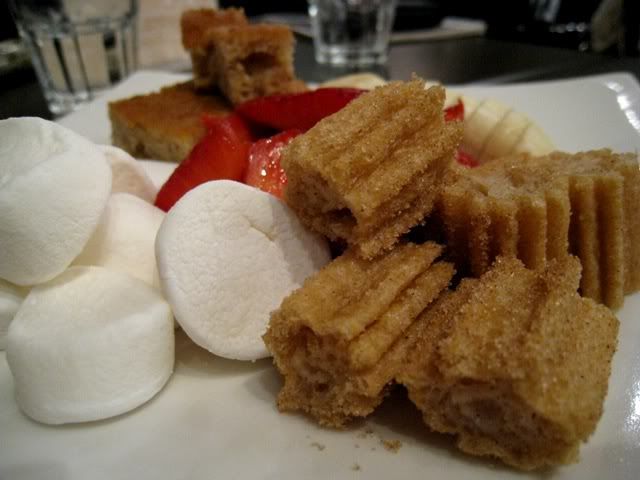 J's & A's rating: 2.75/5
We appreciate Max's kind intention of sharing the wonderful chocolate. But Max, can we have a bigger portion please? For this fondue (or shall we call it dip instead), we could gladly return to our
favourite hang out
where there's a even better chocolate dip!
Max Brenner Chocolate Bar
8 Raffles Avenue
#01-06/08 Esplanade Mall
Tel: 6235 9556