We were craving for custard bun...
But little did we know, there was a better surprise awaiting us...
Introducing to you.....
Small B!
This was the first time we saw
Baked BBQ Pork Bun ($4.20)
in a dim sum menu. The bun was tenderly soft and delicate. Just look at how thin it is! Sweet char siew filling was a perfect match with the warm, buttery soft bun. Looking at this cute little baby, we are enjoying every mouthful of it. All of us unanimously agreed that this was the star of the day.
A & J's rating: 4.5/5
Egg Tart ($3.30)
It may look dainty and lovely but its taste failed to match up to its appearance. The tart was crusty and flaky but it wasn't buttery. The custard was too sweet for our liking.
A & J's rating: 3/5
Steamed Pork Dumpling ($4.20)
Ordering XLB proved to be a wrong decision as the skin was too thick, chewy and sticky. The pork and soup were rather bland.
A & J's rating: 3/5
Steamed Custard Bun ($3.60)
Doesn't this look
similar
?
The custard filling was smoother and sweeter. Bun was soft but we feel that it would fare better if the skin can be made thinner. Still, nothing beats the
first time
we tried the lovely custard bun, unparalleled combination of sweet mango and molten custard with salty egg yolk.
J's rating: 3.75/5, A's rating: 4/5
Baked BBQ Pork Puff with Preserved Egg ($3.80)
This is indeed an unique combination of char siew and preserved egg ("Pi Dan")! Golden flaky skin was thin and crispy. We must say that the preserved egg and char siew complemented each other pretty well. This dish will probably taste better if the char siew is more juicy and the skin is more buttery.
A & J's rating: 4.25/5
Crispy Prawn Roll with Mango ($4.50)
It seems pretty difficult to find a place that serves good crispy prawn roll with mango. This rendition was a disappointment. Mango was not fresh, in fact it was sour. The pastry skin was rather tasteless. The only saving grace if any, would probably be our favorite sesame, which were sprinkled onto the roll.
A & J's rating: 2.5/5
Pan Fried Sliced Duck & Yam ($3.80)
Shredded yam was pan fried to perfection. The texture of the crispy yam resembled to that of rosti. It was savoury with slight sweetness. With the roasted sliced duck and dried shrimps hidden beneath, it was even more aromatic. The only complaint was that there were too little sliced duck!
(A: Janelle does not eat yam or duck, hence this dish was reviewed solely by me! :))
A's rating: 4/5
Steamed Green Tea Glutinous Rice Ball with Black Sesame ($3.60)
This dessert surely ended our dim sum lunch beautifully. Dressed with finely crushed peanuts, the green tea glutinous rice ball was served warmed and soft. It was neither too sticky nor chewy like mochi and the green tea glutinous rice layer was rather thin. Black sesame filling spurted out upon the first bite. It was delightful.
(A: Sis had a little complaint as she detected jasmine in the green tea rice ball. But I can't detect any! Black sesame fillings won my heart over. Perhaps it was the black sesame that covered the jasmine green tea smell which we hated most! Still, I love it!)
(J: I swear that jasmine green tea was used cos my friend detected it too! eeks!)
J's rating: 3.5/5, A's rating: 4.25/5
At this price, the quality of food was generally alright. We were quite surprised with the service provided, given the crowd during the lunch hour. The staffs were very attentive and always checked with us if we needed to place more orders. Drinks were refilled quickly without us asking. Kudos to the prompt and efficient service!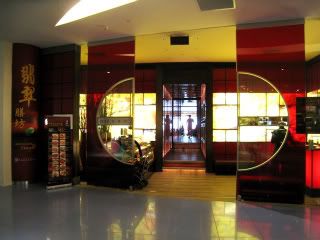 Crystal Jade Dining In
1 Harbour Front Walk
#01-112 Vivocity
Singapore 098585
Tel: 6278 5626