Cedele Bakery Depot is one of few bakeries in Singapore where you can find cakes and sandwiches that are healthy & transfat free! Besides, the food served are all organic.
We loved the cakes here because they're tasty and much healthier than other cafes.
The flour that they used are mostly whole wheat & high in fibre!
Here is a summary of the cakes that we tried!
This is the first cake that we tried at Cedele. The cheese is so light, smooth & melts in the mouth! They give generous amount of sweet, thick apple slices in the cheesecake and we loved the crunchy strussel nut toppings on the cake!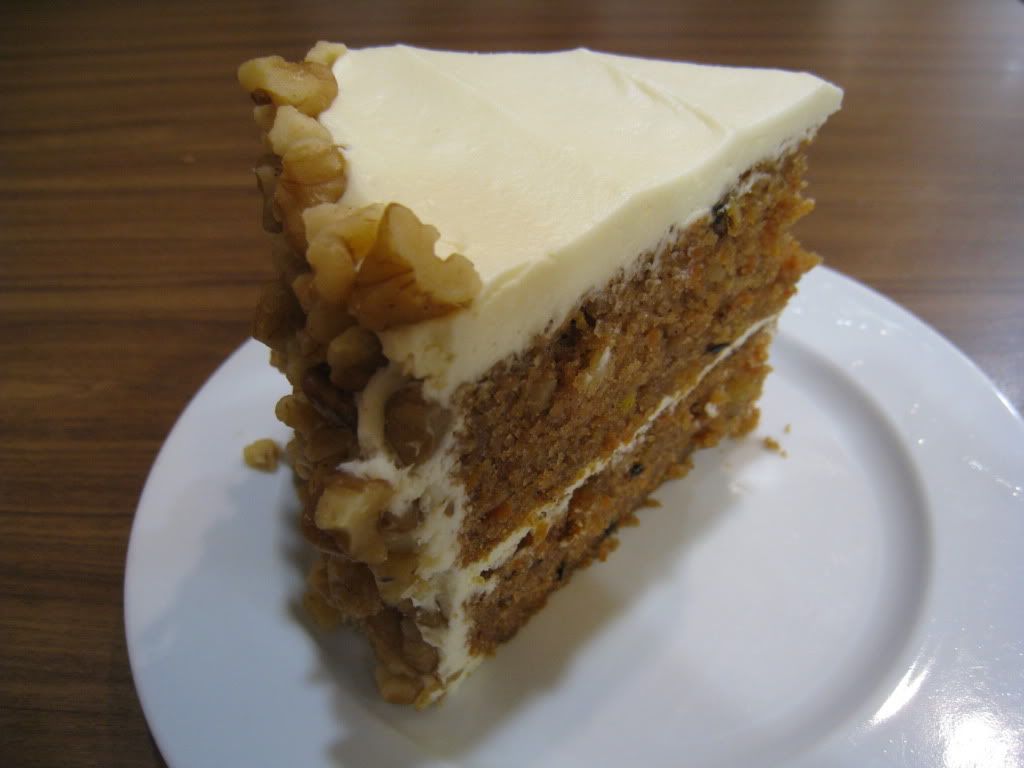 This is Cedele's best seller! Generous amount of shredded carrots & california walnuts with cream cheese frosting! The cream cheese was not too sweet & heavy! A generally healthy cake for the diet concious!
(J: I absolutely love the crunch of the walnut chunks in this cake and this cake is quite moist too!)
J's & A's ratings: 4.75/5
Blueberry Hazelnut Cheesecake
This cake was a bit disappointing as there is very little blueberries and it tasted just like normal cheesecake.
Orange Macademia Cheesecake
This cake was pretty exotic as we had never tried orange cheesecake before.
(A: I didn't like this cake as I feel the orange taste was too strong for me.)
(

J: I enjoy the tanginess of the orange in this macademia cheesecake which makes it special for me. Downside? The macademia arent crunchy at all.)
A's rating: 3/5, J's raing: 3.75/5
Chocolate Cookies & Cream Cheesecake
This was actually their new cheesecake! Generous amount of crushed oreos but we feel that the cheesecake would be better if it was softer and lighter. Bakerzin's cookies & cream cheesecake was better.
(J: I felt that the cheese was quite heavy and e oreo has no crunch at all. Like 'lao hong' already haha)
A's ratings: 3.5/5, J's ratings: 3/5
This pie was a surprised! It was amazingly good! The white foam was actually egg whites and the whole combination tasted so good! With slices of banana at the bottom, this pie was crispy (crust), moist (egg white foam) & soft!
(J: The crust is slightly tad too sweet for me. I wish the banana slices could be fresher too. Particularly enjoy how e foam dissolves in my mouth~)
J's & A's ratings: 4.25/5
We love blueberries! And we always look forward to this cake as we wanted to try it out. But this cake was a little disappointing as we expected something even better. However, the cake was flavoured with maple syrup and we quite like it
(J: Reminds me of e times in vancouver~)
!

But it could be better if there's a "WOW" factor.
Chocolate Banana Espresso Cake
This is a soft chocolate cake sandwiched with fresh caramelized banana, topped with espresso chocolate frosting, and finished with crunchy walnut strussel, oat strussel!
What makes this cake unique is the oat strussel!
(A: I feel that this cake was much better than Secret Recipe's choco banana cake. And I like it a lot!)
(J: I'm not a fan of choc banana n e only thing i enjoy abt this cake is e crunchy oat strussel. I'm curious how they managed to give a crunch to oats haha. Rest of it taste pretty ordinary to me n i get sick of eating it after a while.)
A's rating: 4.5/5, J's rating: 3.75/5
Black Sesame Cake with Tahini frosting
This is the cake that managed get to our top 3 list! Strong flavour of black sesame seeds reminds us of the black sesame paste! U can actually bite e individual sesame seeds. Do try it!
(J: Erm, e fig is tasteless.)
J's rating: 4.5/5, A's rating: 4.75/5
Raisin & Cranberry Scones
The scones here were quite disappointing as it tasted cakey rather than soft and fluffy. We feel that Good Morning Nanyang's scones are much better than this.
J's rating: 3/5, A's rating: 3.75/5
J's & A's Top 3 cakes in Cedele:
Black Sesame Cake with Tahini Frosting
P/S: Due to inconsistency in food quality in different branches, our fav branch for cakes appreciation is raffles city cedele bakery depot and the most generous branch for rosemary chicken sandwich is the vivocity branch.