Recently, we started exploring other cuisines which we rarely try in the past. For today, we had decided on peranankan/malay food for lunch. Never did we expect to find a close competitor to our no. 1
Qi Ji popiah
! Introducing the star of Glory Catering,
Nyonya Popiah $2.20~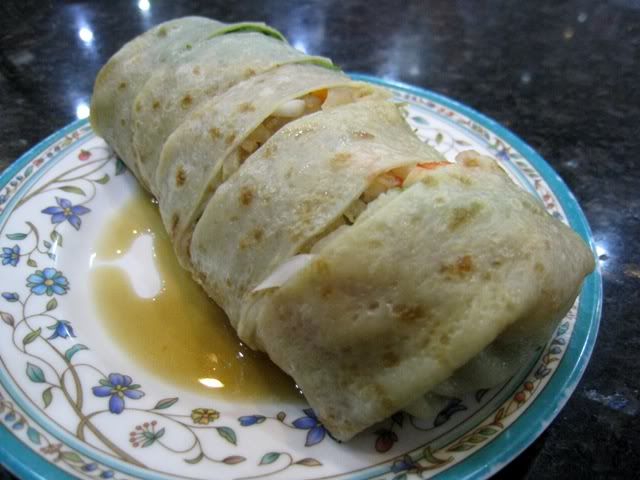 This must be the juiciest popiah we ever had, we were literally sucking on the popiah, no kidding! The sweet sauce was extremely delectable and immediately got us on sugar high! Don't get us wrong, it's not overly sweet, still the usual popiah sweetness =P Even without our must-have crispy fish bits, this popiah won our hearts over with the moist turnips, carrots, omelette and prawn, well soaked in the essence of the sweet sauce and tightly wrapped inside the slightly chewy but thin popiah skin (even though its still thicker than Qi Ji's). Only grouse would be that the prawn was not fresh and crunchy. But still, thumbs up to this popiah!
We couldn't discern a clear winner between Qi Ji's popiah and Glory's popiah on this day. However, it was evidently clear to us that Glory emerged victory when we went back for our Qi Ji popiah fix 2 days later. Never did we once feel that our no. 1 popiah will taste this ordinary. Guess our expectations for popiah had been raised once again. We missed the juicy sweet popiah from Glory. Enough said :)
The keroma chicken was unexpectedly delicious. Tender pink flesh which almost made us went "CuckooOoo". Alright, that was a little exaggerating but we love eating it with the curry and rice.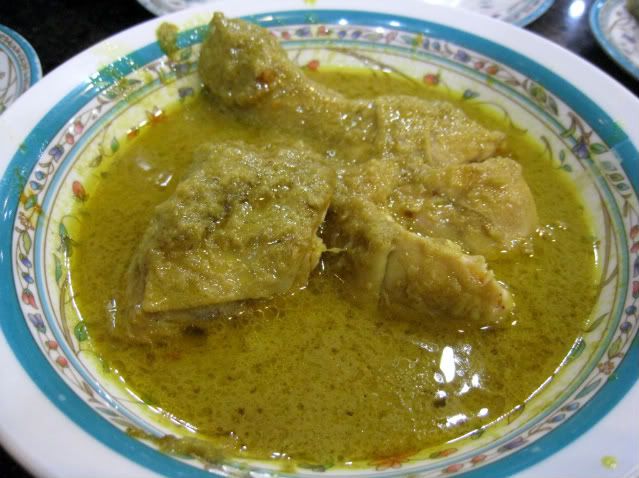 Beef Rendang (Front), Mutton Rendang (Top left), $3 per piece
Beef and mutton rendangs were huge disappointments. Meat were tough and hard to chew. Even the spices used could not mask the strong mutton smell.
We realized that actually not many people enjoy eating

lady finger

because there's this sticky thing oozing out once it was cooked. But we love its crunchiness and this dish here was definitely a hit for us too. Even thought that it tasted better than the one we had from Punggol Nasi Lemak. Sinking our teeth into them immediately squashed and spurted their tiny seeds into our mouths, very shiok indeed!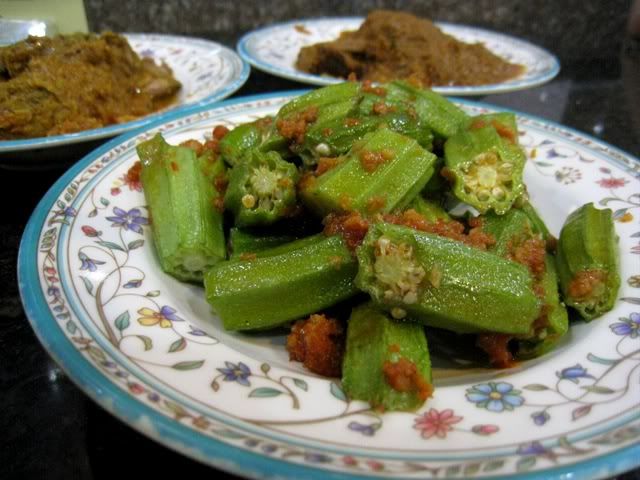 While the rendangs were a disappointment for us, we will definitely return to Glory Catering again for their popiahs. And next time round, no sharing! One for us each, then end the meal with our lovely brownie from Cafe Oliv =P
Glory Catering
139 East Coast Rd
Tel: 6344 1749

Operating Hours:
8.30 am - 8.30 pm
(Closed on Monday except PH)