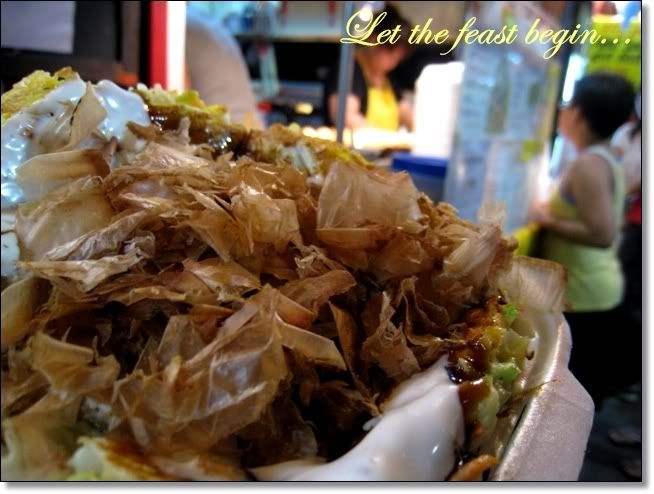 19 June 2009 SistaFood is born.
19 Sep 2009.... Our blog is 3 month old! Yayz~ woOoOoHooOo time for a celebration!
We decided to do something different this evening. And that is...a food feast at Chinatown!
We ate many snacks along the way but we'll only share with you the food that we felt were worth reviewing.
In the bustling Chinatown Food Street, we were just like any other curious tourists. Poking our noses into any store that caught our attention, sniffing around for hidden yummy treasures.
Leung Sang Hong Kong Pastries
This shop caught our attention when we smelled strong aroma of traditional pastries beckoning, "Try me, try me!!". All pastries were discounted at
$0.70 each after 6pm. (U.P $0.90)
We could not decide on which one to try as there were so many varieties available! Eventually, we decided to get
Red Bean Pastry (Tau Sah Sou).
The golden butter flaky skin was indeed good. Red bean paste can hardly go wrong, can it?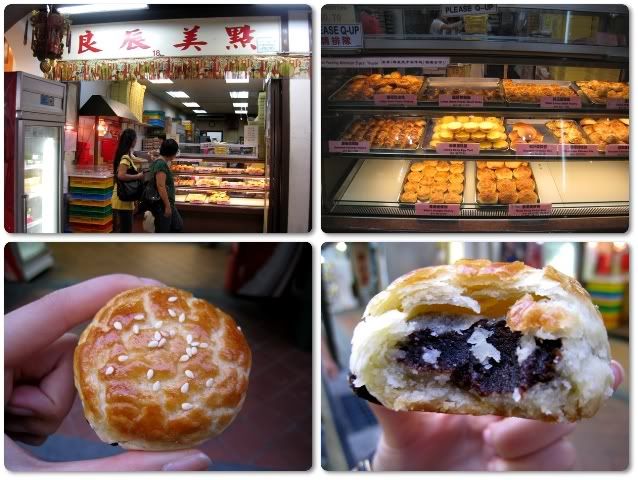 As we continued walking along the food street, we saw one particular store selling authentic German sausages. Actually we had wanted to try this for a very long time but always procrastinated and thought, "We can always try it the next time round." Glad that we finally settled at this store, a rare gem amidst the bustling food street.
Erich's Wuerstelstand Sausage Kiosk
A kiosk selling authentic German sausages!
We had a
German Pork Sausage ($2.50) and Sauerkraut ($1).
Sauerkraut was actually fermented cabbage which taste a bit like the Chinese "Suan Cai". We had this back in Germany and thought we should try it here too. Taste wise, it was soso, nothing to rave about but for a dollar, there's nothing much to complain. The one in Germany was way better. The German pork sausage definitely lived up to our expectations. It was very juicy and succulent!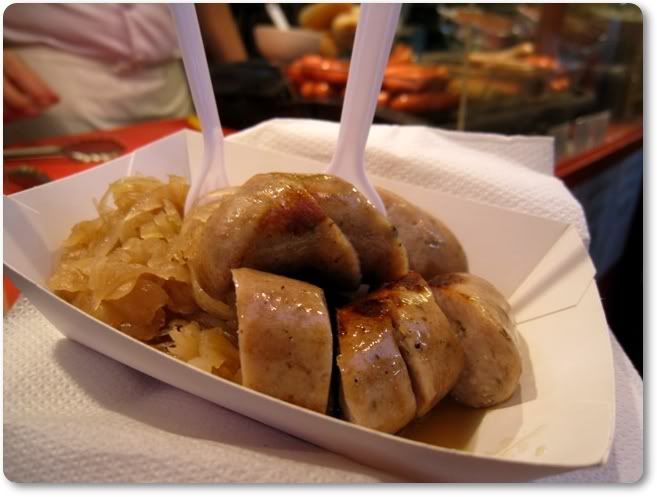 Ah Balling Peanut Soup
We bought a bowl of peanut soup ($2) with 5 different glutinous rice balls aka tang yuan, black sesame, green tea, yam, red bean and peanut.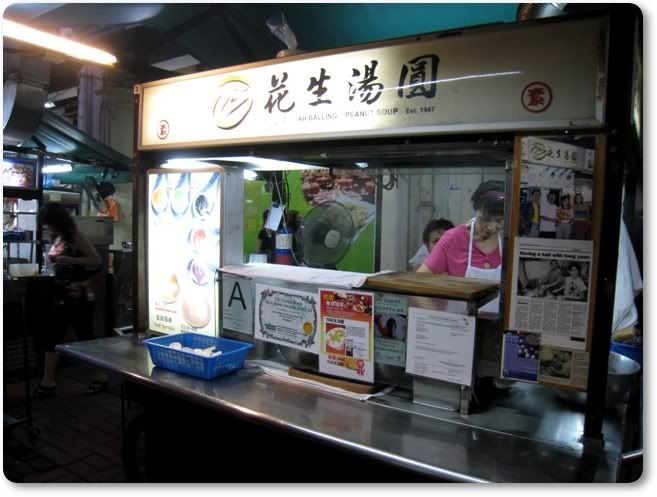 The peanut soup was good. Soup was infused with sweet fragrance of the peanuts. The tang yuan was acceptable but not fantastic. Skin was little too thick for our liking.
(J: I was disgusted with the green tea and puked it out immediately after placing into my mouth. Reason being, i hate jasmine green tea! Peanut is my fav but im not really a fan of glutinous rice balls. Too chewy for my liking...)
From top left: black sesame, peanut, green tea, yam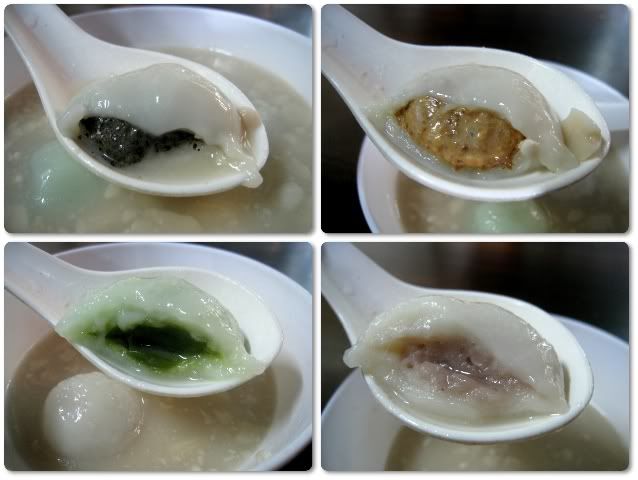 Here comes the highlight of the night!
Salmon Okonomiyaki ($3)
Not kidding at all. This is in fact one of the better okonomiyaki we had tasted so far. We felt it's even better than Botejyu's Moonlight Okonomiyaki. Generous amount salmon and lots of cabbage given to add an extra crunch. The flour mixture was just nice, not too much to make us feel sick of eating after a while. Enjoyable sweetness from the teriyaki sauce and mayonnaise to go with the okonomiyaki.
Besides, it costs only $3!!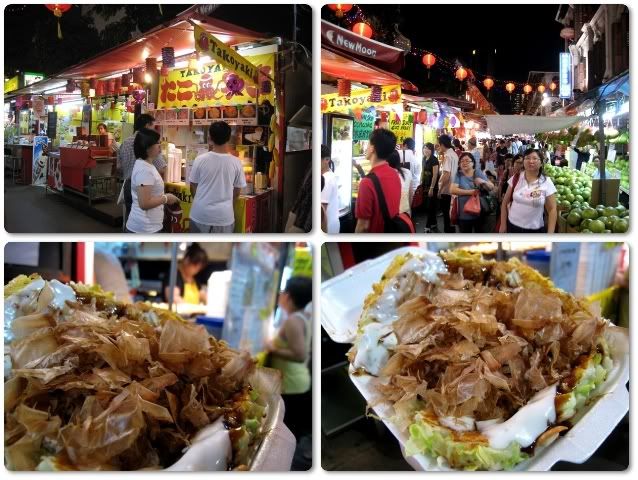 We finally headed over to People's Park Centre.
Madeleine's Portuguese Egg Tart
This was by far, our best
Portuguese egg tart ($1.50).
We were surprised with the consistency in the quality of the egg tart even though we bought from this pasar malam store. Crusty tart base kept us satisfied for the next 1min. Next time we will go back to the original store at Katong to eat the freshly baked egg tarts!
Lastly,
Kueh Tu Tu (5 for $2)
to end our food feast at Chinatown.
Kueh Tu Tu was not too bad but there is definitely room for improvement. Thought it would be better if it was more powdery.
(A: I would prefer if they use gula melaka for the coconut fillings.)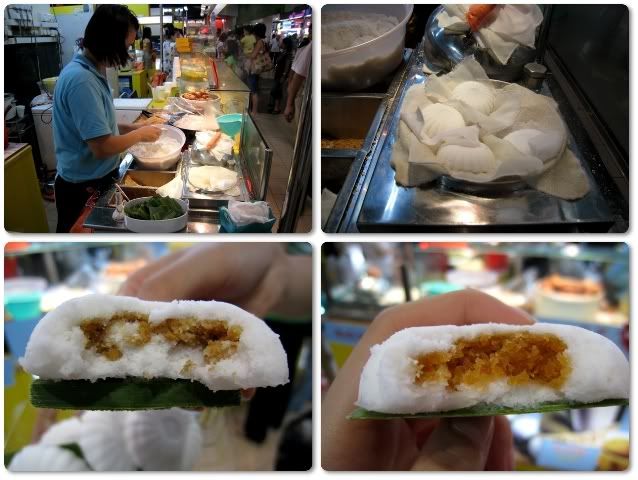 What a sweet end to finish off the day, with the lighting of Mooncake Festival decors at Chinatown as today marks the start of the lunar 8th month!
Next time, we would want to explore Little India for another round of food feast!