Can u believe it? This is actually our 4th visit to cafe oliv and each time we went, there r still sooo many items on the menu tt we want to try but have yet finish going through them all! Their food and service just make us keep wanting to come back for more... so here is our weekly cafe oliv fix. Oh gosh, at this rate we're eating, its gonna burn a super big hole in our pockets *faint

Need I say more? This pic shows it all... big fat juicy cheese sausage~ Lol sis actually got spurt by the cheese when she 1st cut into this humongous sausage =D The brown sauce was really tasty, prob a little similar to black pepper sauce without the peppery spicyness. We've no idea what it was, shall ask Kevin next wk...

German Chicken Cheese Sausage Platter $8.90
Authentic homemade grilled sausages accompanied with brown sauce.

When the mini trio burgers arrived at our tables, our 1st reaction was omg, soooo cute!! Very very very kawaii really! U cant really gauge the size of the burgers from the pics, u just gotta c them for yourselves haha! These burgers r really TINY. Perfect for ladies who enjoy trying a little of everything :P We had the cod fish and tenderloin mini burgers and oh my, they were really JUICY. Each bite we took, the sauce just kept dripping out from e other end of e burger lol... Fingerlicking delicious~ Both burgers contained bacon, cheese, mushrooms and big leafy lettuce... We unanimously preferred the cod fish to tenderloin even though the beef was really juicy and tender~
(J: I was actually suffering from toothache tt night but still managed to finish off e yummy burgers! I wonder what was the sauce used hmmm... The seasoning in the wedges reminded me of mcdonalds curly fries)


Oliv Mini Trio Meat Burger $14.90
Grilled mini tenderloin steak, mini cod fish steak, BBQ sliced pork stacked mini burger buns, cheese and bacon served with mesclun salad and wedges.
A & J's rating: 4.5/5
Chatted with Kevin for a while and really liked the 1st 2 recommendations... Being their regular customers, we asked for discounts and without any hesitation, he waived the service charge off our bill! :D Anw back to our dinner, we mentioned to Kevin tt we would be back next wk to celebrate our youngest sis bday and asked him for recommendations. He actually recommendated crab pasta which was not yet included in their menu and
personally
whipped up this italian delicacy for us! Wow, we felt really honored to be able to try it before others~
Thanks Kevin!!
Kevin was really generous with the portions of crab meat. Every mouthful of linguine we took was filled with oh-so-sweet-and-fresh crab meat! Yes, its crab meat not crab stick ok haha. The linguine was well cooked, although it could be just slightly overcooked for me (J)... But sis felt tt it was perfectly done... Kevin suggested tt we should stick to tomato or olive sauce in order not to overwhelm our tastebuds and cover the taste of the crab meat. We were really glad we chose tomato sauce... Although not as sweet as Bistro 103's rendition of tomato cream sauce, there were strong and rich flavors of seafood... It was simmered for hours with seafood which brought out the flavors really well. Slightly tangy and sweet~ We love it!
(J: For Bistro 103, I was attracted to the combination of spaghetti and tomato cream sauce while for Cafe Oliv, it was more of the sauce and crab meat goodness tt attracted me...)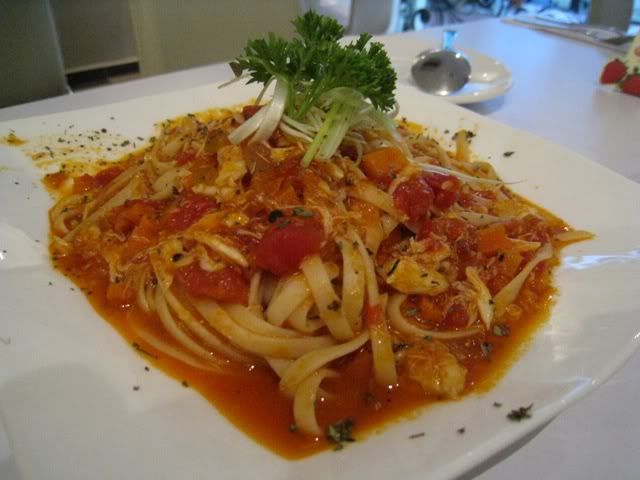 A & J's rating: 4.5/5

Sidetrack a little, Cafe Oliv could be coming up with a new menu with even more items to be added prob in dec! Omg we cant wait~ We r simply spoilt for choices...

What's dinner at cafe oliv without our must-order warm choc brownie with mocha chip ice cream? Because they alr know our preference for really warm brownies, our brownies were heated for 1.5min instead of the usual 1min haha. But there was slight disappointment though, this batch of brownies were really dry and Kevin said it could be due to the position where they placed their boxes of brownies, facing the fan leading to loss of moisture. Sis had hers changed... while I thought mine was moist and halfway through enjoying my brownie fix, it became harder n drier like what sis had before... However, I was alr feeling too full to get it changed again... Well, we certainly hope Cafe Oliv can resolve this problem soon and bring us back our heavenly brownies~ We are contemplating if we should continue ordering our no 1 fav brownie next wk due to e recent inconsistencies in the quality of their brownies... Should we or should we not?! Find out next wk~
(J: Even as I'm blogging now, the taste of the crab meat pasta still lingers in my mouth lol)
Click
here
for our previous reviews on Cafe Oliv.