J:

Was feeling grouchy e entire day after convocation ceremony bcos my lousy heels made my toe swollen & my feet hurt from all the walking. Went to island creamery to eat e famous apple pie ice cream but it failed to impress me with its soggy pie crust. Boy, was I glad to find Swiss Culture. Having read a review online on its chocolate fondue, how could i resist its calling?
The 1st thing which impressed me most was the unparalleled service from Swiss Culture. Now, this is what I call good service & willingly paid for the service charge. The waiter led us to a table n seeing tt we had no place to put our bags, he promptly brought over 2 stools for us to leave our bags on. Then, ice water was served and they kept refilling our water w/o us knowing (alright perhaps we were too engrossed in enjoying e delicacies lol). When serving the rosti, he also brought along 2 small plates for us even though we didnt tell him tt we're sharing. Then, he politely told us to inform him when we're done with the rosti so that he can serve us our highlight, chocolate fondue! Oh yes, they were also very familiar with their menu & could give remarkable recommendations. Excellent service, Swiss Culture!
This rosti is really delicious! It was soo crispy on the outside that we felt as though we were eating potato chips!

(A: It reminds me of hashbrown..crispy on the outside but yet firm on the inside.)

Unlike

Cafe Oliv's rosti which was panfried using shredded potato, Swiss Culture's rosti was panfried using potatoes strips, and therefore much firmer, crunchier and much more crispy!

The potatoes inside were moist n soft but yet firm! Their sour cream is also more sour which really whets my appetite. Also, the sauce they used for their salad, which we had no idea what it was, was sour too. Citrus dressing perhaps?? This dish on the whole is a gd starter.
(A: I would probably give a higher rating if it was panfried perfectly.)
We saw e table next to us eating cheese fondue and the meat platter which looks really really yummy. But they're so expensive! We hope we have a chance to try them though. Swiss culture is a gd place for a big group to dine in bcos they have so many dishes tt r suitable for group sharing! Any makan kakis interested in a foodie outing to Swiss Culture? =P
Rosti with Sour Cream (5.80)
* Not in the menu. You can request for the rosti only. Otherwise, it is served with main course*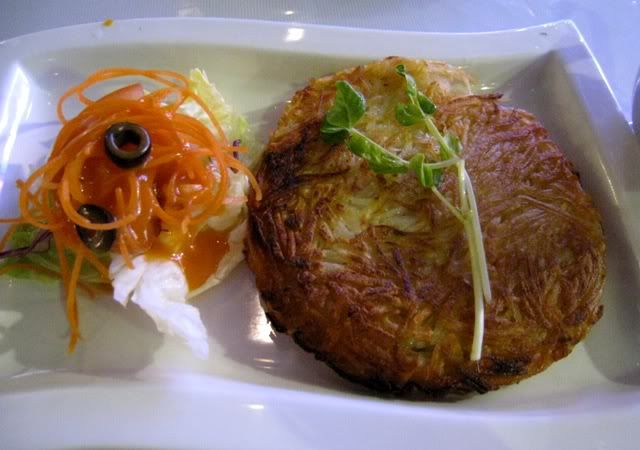 Chocolate Fondue ($14.80)
We replaced e strawberries with bananas as usual. The 1st dip into e chocolate was disappointing as we were expecting piping hot, if not warm dark chocolate. However, this was only the beginning. As we stirred the chocolate with our fruit n marshmellow dips, the choc became warmer n warmer! More SHIOK towards the end! Just look at e bubbling hot choc! *droolz* We love the molten dark chocolate used as its not overly sweet but was expecting nuts & nougats inside though. Dont be deceived by this small bowl of chocolate. It may look like they're stingy on e quantity of choc but NO! After finishing e entire plate of choc dips, there r still choc left! The choc is sooo good tt we actually drank it like hot dark chocolate on its own! hahaha soooo sinful but satisfactory!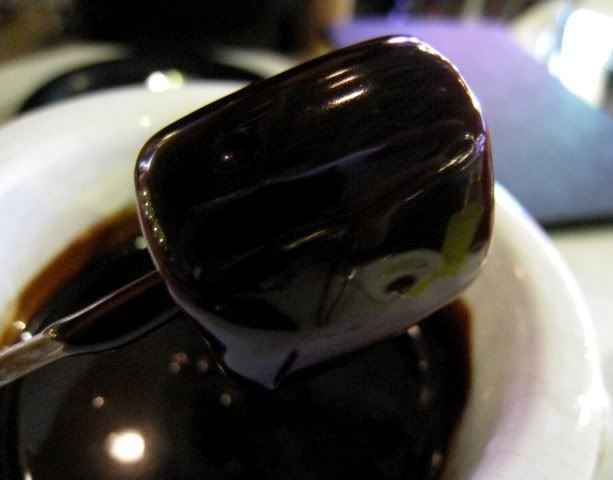 J's ratings: 4.5/5 rosti, 4.8/5 choc fondue
A's ratings: 4.25/5, 4.5 if panfried perfectly
4.8/5 for chocolate fondue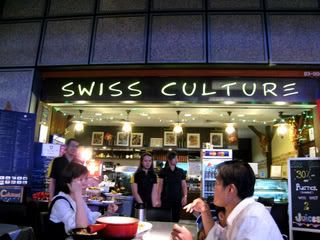 Visit
http://www.swissculture.com.sg/ for more info
Swiss Culture Restaurant Pte Ltd
3 Temasek Boulevard
#03-006 Suntec City Mall
S(038983)
6333 5919
Sun to Thurs 11am - 930pm
Fri, Sat, Eve & PH 11am - 10pm