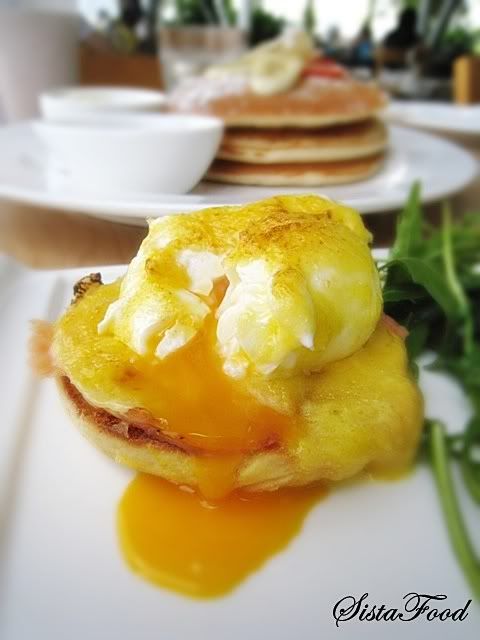 We love
eggs
,
We love
pancakes
,
We simply love
breakfast
,
And we truly believe that such a blissful meal, or rather
brunch
should be enjoyed in a relaxed, quiet setting.
We were just like kids,
smiling jubilantly
upon seeing our favourite breakfast being dished out before us.
Brunch at Prive Bakery was indeed enjoyable and memorable. It's almost like a cafe situated on a little island paradise, a stone's throw away from the bustling city.
Prince
Egg Royale ($13.50)

, you're just like a magnet drawing us towards you, mesmerizing us with your charm.
All-time-favourite poached eggs with smoked salmon on English muffin; drizzled with hollandaise sauce, an irresistible sight to behold. However, the miserable portion of hollandaise sauce was regrettably lackluster and forgettable, which fell short of what we tasted from
Patisserie Valerie
in London. We couldn't enquire more on Valerie's hollandaise sauce cos' it's their secret recipe! Smoked salmon was pretty average, but the poached eggs with runny yolks were perfectly done.
A & J's ratings: 4.25/5
We want eggs, we got it.
We want pancakes, and we got
Fluffy Pancakes
!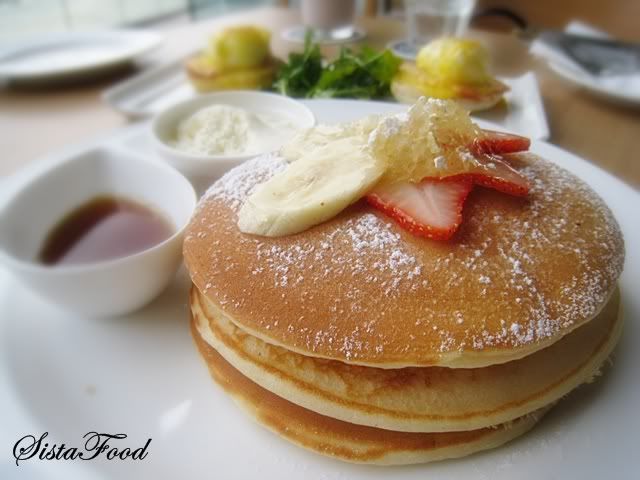 Thick, buttery,
Fluffy Pancakes ($12)
with bananas and strawberries sandwiched between the layers and a finishing touch of icing sugar, was simply
divine.
Accompanied by its sweet escorts, maple syrup and honeycomb whipped cream, we were on cloud nine when we felt the sugar rush through our bodies upon placing the pancakes into our mouths. Do you see the bees buzzing around? =P
A's rating: 4.25, J's ratings: 4/5
J's eyes lit up and she smiled delightfully upon the first sip. Gosh, it was
orgasmic and heavenly.
We flew to the peanut butter heaven immediately and had a dance party with Mr Skippy, Peter Pan, Jill, Adams, Smuckers... Sinfully rich and sweet, we were sosososooo overwhelmed with peanut butter goodness! Definitely not for the diabetic cos it'll escalate your blood sugar levels rocket high.
Meet our latest love -
Peanut Butter & Jelly Milkshake ($11).
Chewing on small bits of red flesh in the milkshake,
we were wondering... hmmmm raisins... or prunes maybe?
Never did we expect that the milkshake was a blend of peanut butter, strawberry jam and vanilla ice cream. A unique, remarkable taste which kept us hooked and wanting for MORE!
A & J's ratings: 4.5/5
Ending our brunch on a sweet note with
Prive's

Carrot Cake ($6.80)
.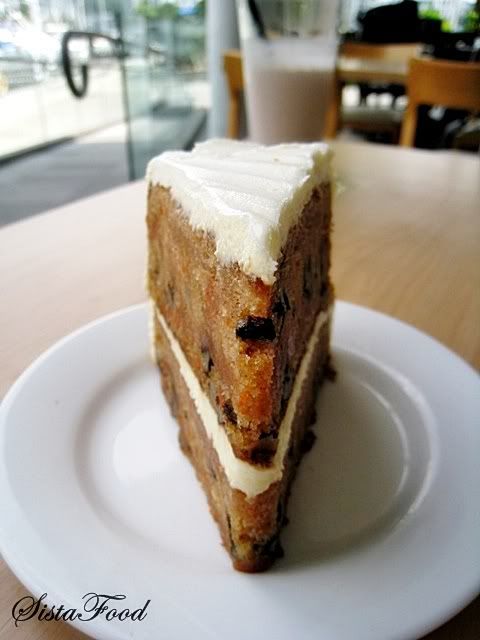 Oh my.. the tall, almighty carrot was huge!
Walnuts, checked. Carrots, checked. Cinnamon, checked. Cream cheese, checked. Moisture, checked. Check check check!
Packed with chunks of california walnuts and shredded carrots, it was really
moist
, even Cedele has to take a backseat in this aspect. The taste of cinnamon was rather discernible too.
Smooth cream cheese with a hint of zesty lemon differentiated itself from our
favourite maple cream cheese frosting
from
Cedele

.
It was creamier too, which probably came closer to the texture of whipped cream.
There was nothing much to complain about this wonderful piece of carrot cake, but we still prefer Cedele's rendition even though they do lack in quality control across different branches. We concluded that the Raffles Shopping Centre Cedele Bakery Depot serves the best carrot cake among its outlets.
A & J's ratings: 4.25/5
Brunch at Privé Bakery Café was absolutely amazing and
we'll be back
! Stay tuned~
Privé Bakery Café
2 Keppel Bay Vista
GF Marina @ Keppel Bay
Tel: 6776 0777