The latest craze in Singapore is the blooming yoghurt chains within the tiny dot on the world map. Big names like "Yami Yogurt", "Yoguru", "Frolick", "Yogurt Place" etc have dominated the shopping malls.
Yogurt is indeed ladies' best friend
, as they are
low fat and contain live probiotics
which promote intestinal health, strengthens your immune system yada yada... (Food bloggers don't really care as long as its delicious and worth the calories right? :P) We are definitely not missing out on this yogurt craze, and having tried from the various yogurt chains, we are proud to announce that Red Mango has found its way to the first 2 spots in our hearts~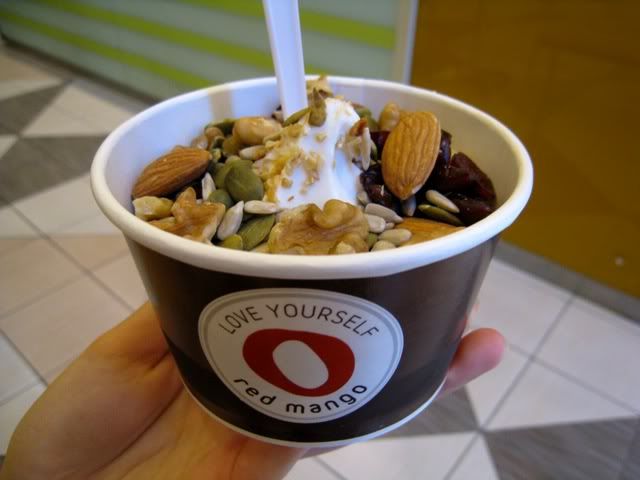 (J: Red Mango is the first yogurt I've tried before yami yogurt and others have sprouted all over sg. To-date, its position in my heart has not wavered. Definitely my yogurt queen!)
(A: Red Mango and Yoguru are similar in taste except that Red Mango is more creamy. Red mango was really good but I will prefer my yogurt to be smooth and thick, not frozen.)
Unlike other frozen yogurt which may be more icy and even some of their textures are similar to sorbet, Red Mango has distinct itself with its thick and creamy yogurt, almost like eating a gelato!
(J: To such an extent that I refused to believe they're frozen yogurt until recently :P)
What's more, their yogurt is yummilicious, flavorsome and is 99.7% fat-free (awarded with HPB's healthier choice symbol)! The variety of flavors at Red Mango is rather limited and they do have another different flavor on their menu everyday apart from their original. They have a surprise flavor on every Monday eg mixed berries! But we must admit that its more than enough as their original yogurt already tasted sooo good on its own, tangy and not too sour.
(J: My another personal fav is their green tea yogurt, only available on Wed :))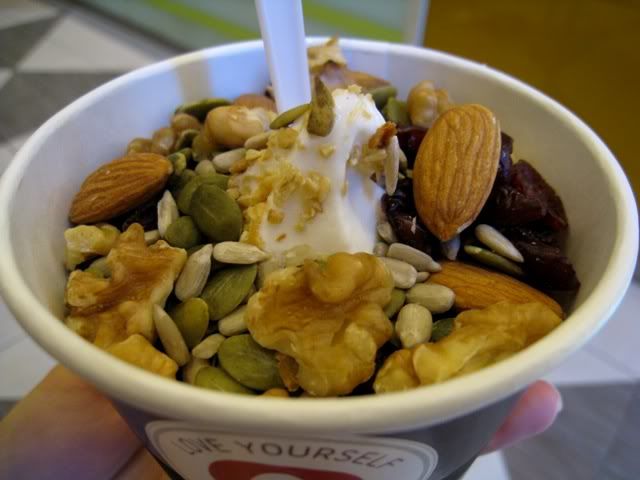 Original flavored yogurt ($3.20) with granola ($1) and mixed nuts toppings

(promo of e month: buy 1 topping free 1 topping! =D)
J's rating: 4.5/5, A's rating: 4.25/5
We LOVE to top our yogurt with granola because granola is crunchy and satisfying. You'll be surprised that granola can differ vastly across the various yoghurt chains! Our favourite granola is that from Yami Yogurt, and they're really generous with the toppings. For only $3.25, you can get a regular cup topped with granola, one of the cheaper yogurts in Sg. Frolick's granola was really disappointing, simply because they tasted more like cornflakes/cereals.
Red Mango is tucked in a small corner at the basement of Suntec, outside Carrefour. One and only outlet in Singapore!
Suntec City Mall
3 Temasek Boulevard
#01-140G Suntec City Mall
Singapore 038983
(In Tasty Treatz, located at Entertainment Centre, Level 1, next to Carrefour)
Mon - Sun: 10 am to 9pm