Since the day when we noticed Tian Tian Hainanese Chicken Rice in Maxwell Food Centre years ago, we've been wanting to try it. But the never ending longgggg queue always held us back. Finally managed to drag our lazy bodies over to Maxwell today, determined to get 2 plates of chicken rice no matter what!
Just look at the tender, juicy chicken hanging on the rack.
They are smiling and waving at us..
Wait a minute....we heard a voice...
"CuckoO~ Taste me! CuckoOo~"
Hahahaha...we're almost there~ Wait for us!!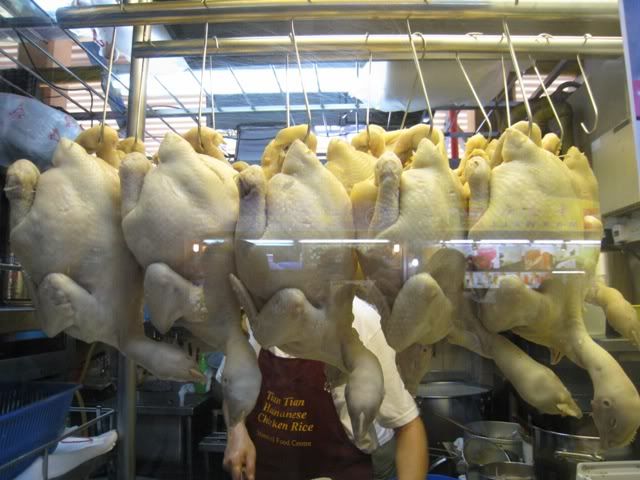 We ordered the
Chicken Drumstick rice ($3)
and the
normal Chicken rice ($2.80).
The chicken drumstick was extremely tender, succulent and flavorsome. Soaked with the special gravy, it was almost perfect. The normal chicken meat was not too bad, but the chicken drumstick had already won hands down!
However surprisingly, the star for today was not the chicken....but the rice!
The rice was infused with the chicken broth, each grain was palatable and fragrant. Not too oily and the firmness was just right for us. It was so good that you can even eat it on its own!
A: And not forgetting the chilli! Lime juice was added to the chilli , giving an extra kick and exhilarating thrill! Of all the chicken rice stalls that we've tried, I love the chilli here the most!
J & A's ratings: 4.75/5 chicken drumstick rice, 4.5/5 normal chicken rice
Tian Tian Hainanese Chicken Rice
Maxwell Food Centre
Stall 10
11am to 8pm