Custard bun...Our Love~
And our search for the next best custard bun is on!
Next stop,
Bosses at Vivocity
!
*They're having 30% off dim sum from Mon - Sat 2.30pm - 5.30 pm. Prices listed are discounted*

Signature Custard Bun ($3.50)
Salted egg custard oozing out with each bite. We thought it was good initially but somehow the bun was sticky and we felt it was a chore eating this bun after a while.
(A: The salted custard was not too bad but it would be better if the bun is softer and more fluffy)
(J: The texture of this oozy custard was a little too 'sandy' for my liking. Please pardon me for my choice of word lol but i prefer smooth sweet eggy/milky custard... Plus i find it too salty & feel rather satiated after eating just 1 bun...)
A's & J's rating: 3.5/5
Egg Custard Tart ($2.80)
Unattractive as it seemed but this egg tart was so crispy and fluffy! Egg custard was sweet with a faint taste of milk. Unlike the traditional egg tart which tasted more eggy.
A's & J's rating: 4.25/5
Fish & Tofu Siu Mai ($3.36)
This definitely did not look a bit like any other siu mai at all. Seemed more like steamed meat with prawn bits. It was the gravy that made this dish special. Salty yet sweet gravy reminded us of Japanese soy sauce. The prawn bits were indeed fresh and crunchy but we could barely detect any trace of fish.
A's rating: 3.75/5, J's rating: 3/5
Crispy Mango Salad Prawn ($4.76)
Crispy batter with fresh translucent prawns embedded within it. However, it was a little oily and the mango wasn't sweet at all. It was sour.
A's rating: 3.5/5, J's rating: 3/5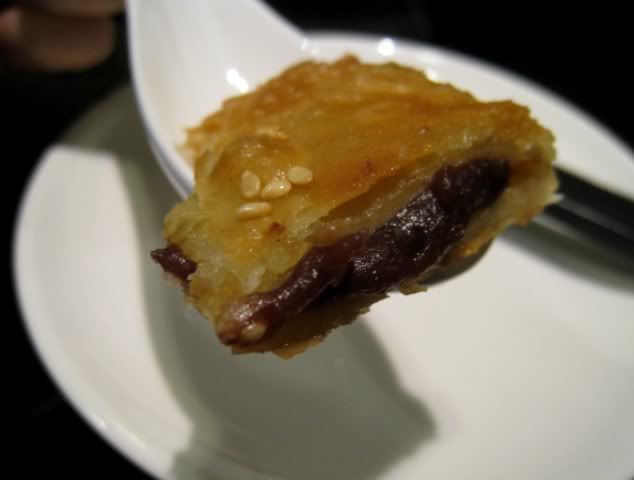 Red Bean Pancake ($4.20)
We felt the pancake was too greasy for our liking. The pancake was thick and gooey, with uneven distribution of red bean paste. Too little by the side and too much spread in the center of the pancake.
A's & J's rating: 3/5
For the price you pay at Bosses without the dim sum high tea promo, we feel that you can enjoy better dim sum at Royal China which is even cheaper. Having said so, once in Bosses is enough. And we're on the search for the best custard bun!
Bosses
No. 1 Harbour Front Walk
#02-156 Vivocity
Singapore 098585
Tel: 63769740