Here we are, joining our very first ieat makan session at Udders!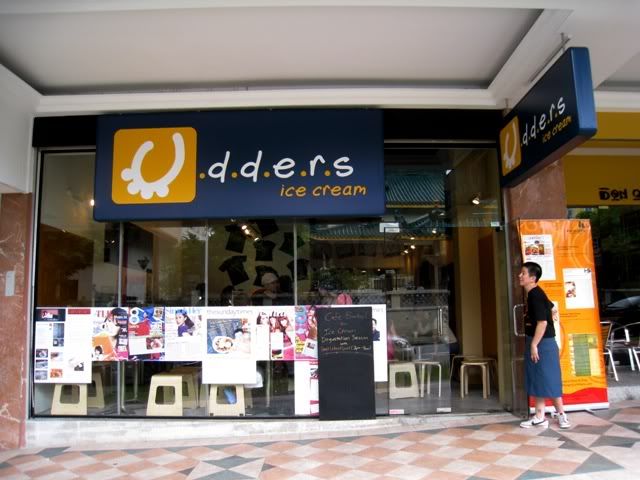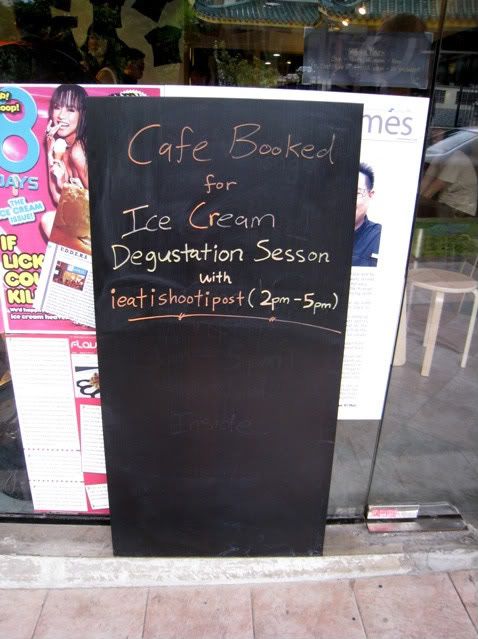 Everybody were busy mingling with each other. It's really nice knowing new people
who enjoy eating as much as we do.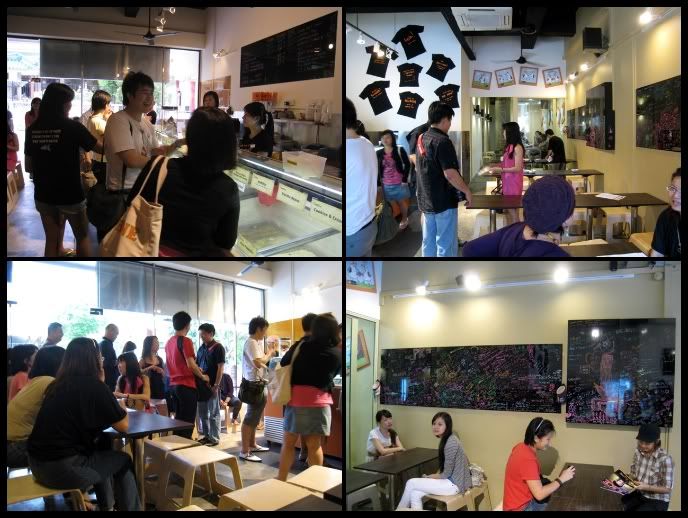 Don't you think Udders T-shirt looks cool & gorgeous? haha!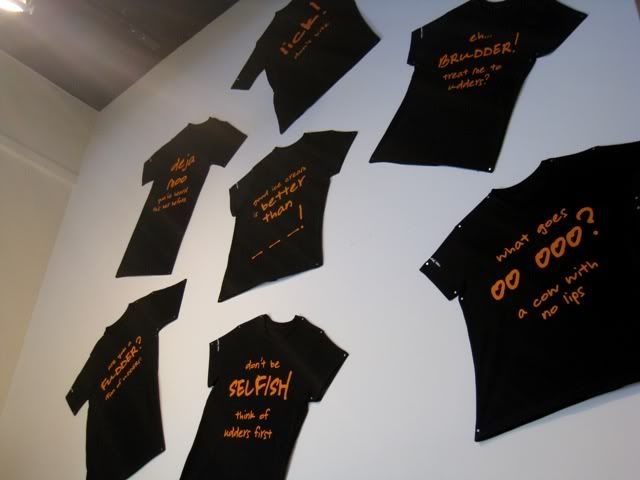 Our ice-cream menu for the day!
What's that extreme flavour?? hmmm...
The famous food blogger in Singapore, Dr Leslie Tay~!
Chief Milkman, Dave. Boss of Udders and the creator of the ice cream flavours. He used to be a secondary school teacher who taught eng, maths and science. After leaving the life as a teacher, he ventured into business and was contemplating btw opening an ice cream parlor or a burger joint. Ultimately, he settled for an ice cream cafe, Udders. He mentioned tt if he were to open a burger joint in future with his ice cream cafe, he would name it "Iceburg" lol! Anw, he spent 4 mths learning how to make ice cream and research. After much experimentation and samplings, he gained 5kg in 4mths and created over 30 ice cream flavours!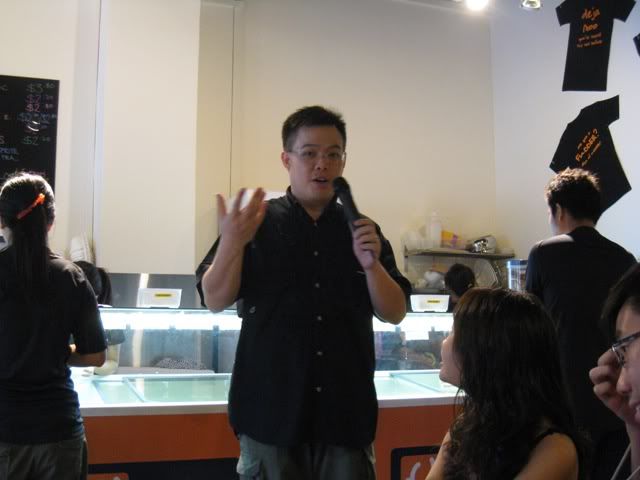 These were the flavours that we've tried!
Our fav of the lot: Strawberry~
Many of u may ask, how special can strawberry ice cream be when u can commonly find it everywhere? Sometimes, it is more difficult to make something ordinary extraordinary. This flavour stood out from the rest bcos u can actually taste and bite bits of strawberries embedded within the ice cream and the strawberry flavour is really intense. Dave has experimented using strawberry puree, frozen strawberries, fresh strawberries etc and the best ingredient in making this ultimate strawberry ice cream is of course, using fresh strawberries! Yes, strawberry is a seasonal fruit but he managed to find supplies all year round from different countries like USA, Korea etc.
Orange bitter choc was impressive at first due to the taste of the intense dark choc. But the alcohol was so overpowering tt we were over-satiated after a few mouthfuls. It's actually considered one of e mildest alcoholic flavour already.

Bailey's is ladies' best friend. Perhaps, we're just not lady-like enough to enjoy it =P 3 scoops of this is equivalent to a can of beer!
Hazelnut tasted like ferrero rocher.
If you are a durian lover, be sure not to miss out on Mao Shan Wang!
(A: It's as though u are eating frozen durian. Delicious~)
Initially when Dave just started out, he only had the classic and premium range of ice cream flavours. But he specially came up with the connoisseur range of ice cream just for this flavour which cost $5.30/scoop! Durian lovers should know tt Mao Shan Wang is akin to the king of durians and can easily cost up to $30/durian, so it shouldn't pain u tt much to satisfy ur durian cravings right?

The rest of the flavours were either ordinary or alcoholic contents were too strong for us to review.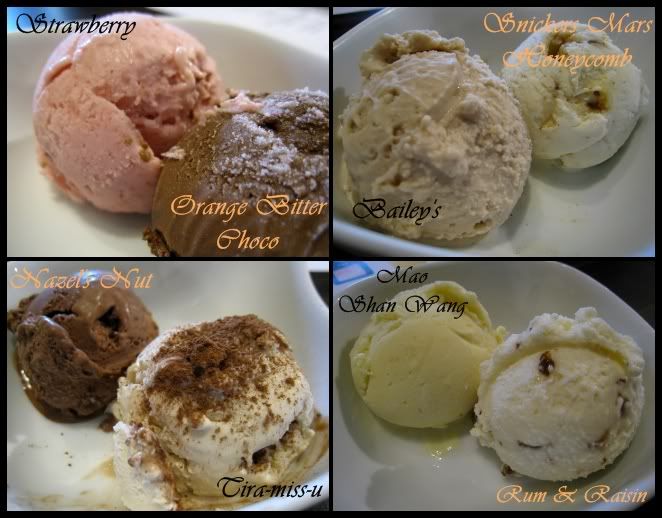 While waiting for our extreme flavour to be served..
Wait a minute....our sharp noses picked up the fragrance of freshly baked waffles from the next table!!! We always have a soft spot for waffles and how can we resist its temptation?!
Gosh! We finally found a waffle that overtook our no. 1 waffle, Gelare, and its way better!
And for only..$2.50?! WHAT!!!

The waffle looked very much as the Belgian liege waffle. It was crispy on the outside and super soft inside! Smell and tasted somewhat similar to a pancake, full of buttery goodness. oOooMpHH waHhhHH! Heavenly~!!
A's & J's ratings: 4.75/5
Here comes our EXTREME FLAVOUR
*This ice-cream was created for ieat ice-cream degustation only. Not for sale and not to be eaten! *
We were made to sign an indemnity form before sampling this sorbet. Yes, it is sooo sour and acidic tt it actually burnt Dave's tongue during experimentation. Definitely not for the faint-hearted! Luckily, we have Dr Leslie Tay on the standby. It's really funny seeing everyone's facial expressions. All their faces cringed and they shut their eyes sooo tightly upon shoving the first spoonful into their mouths lol. We only had a nibble and couldn't take it already haha!
We just can't get enough of ice-cream
Hence...we got another flavour for ourselves!
(J: I thought it was better than Island Creamery, which had soggy cookies chunks, even though the cookies were finely mashed. But every spoonful was generously filled with cookies goodness in the creamy ice cream.)


We also tried out many flavours such kopi-c, Chocomash etc.
We discovered the Pure Pistachio flavour & it definitely makes us happy!!
The alcoholic flavours were just too strong for us. A few more scoops will make our faces turn red!
We enjoyed the ice-cream degustation session a lot and will definitely be joining many more in future!
Read
here
for ieat review.