Finally got to try this legendary chicken pie in town, presenting to you... Café 2000's Chicken Pie ($4)~!
Ordinary and innocent looking it may seem, but keeps you wanting for more!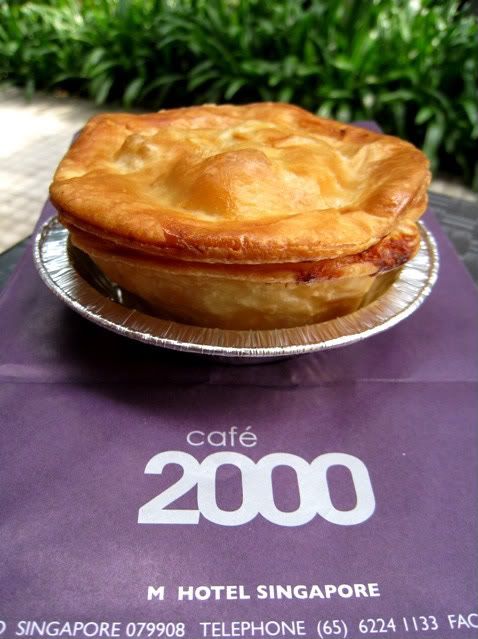 Beneath the beautifully baked pie crust lie generous chunks of chicken, carrots and button mushrooms. Surprisingly, the soft crispy pastry despite being thin, was still able to hold the fillings rather well. It was not too oily or greasy, slightly flaky and fully embodied with buttery fragrance. Chicken chunks were tender, carrots were sweet, and all ingredients were extremely juicy! They were immersed in what we suspected to be mushroom broth with smooth, creamy consistency, prob close to cream of mushroom soup. Very addictive and finger-licking good! Even after finishing the pie, there was still lingering mushroOomphHhness on our palates. =D
J's & A's ratings: 4.5/5, 4.75/5 if it's warm, freshly baked from the oven!
To read more about this legendary pie, click
here
.
Café 2000
M Hotel, 81 Anson Road
10am-3pm daily
62241133