After a series of hiccups which made our Saturday an unlucky and disappointing one, we decided to choose some place for dinner to end our day perfectly. We remembered Bistro 103 which received excellent reviews and was highly rated in hungrygowhere.com. Determined to make our day a better one, we decided to take a risk & headed there!

It was a very cosy place and we were greeted by a friendly guy in the restaurant. He looked very busy but nonetheless, he led us to our table and recommended some of the popular dishes to us.

For starters, we ordered
Bruschetta (toasted foccacia bread with tomatoes and onions), $4.20
The bruschetta was slightly different from what we had in Italy. The bruschetta in Italy tend to be sweeter because of the tomatoes! The tomatoes there were super sweet and juicy! On the other hand, the bruschetta here are more sour and refreshing because of the onions and herbs added. Also, the garlic taste was more overpowering but dont worry, it wont give u bad breaths after your mains, we promise! Very appetising indeed!
Next we had,
escargot in white wine sauce, $8.90!
Omg! This was incredible! The sauce complemented very well with the foccacia bread. The infusion of white wine and cheese after dipping the bread into the sauce simply exploded an array of flavors into our mouths. The white wine wasn't too strong to intoxicate our tastebuds and the addition of cheese (which we guess is mozzarella) added a tinge of saltiness to the sauce. (
Cafe Oliv
's rendition of escargot is more salty due to the addition of pesto.)
First bite of the escargot shocked us! It tasted more like a mushroom rather than the usual chewy escargot! It was so fat and juicy! We adore it so much that we almost wanted to order a second one! But wait...we still got our main course coming up!
Salmon & Crab Pasta ($15.90)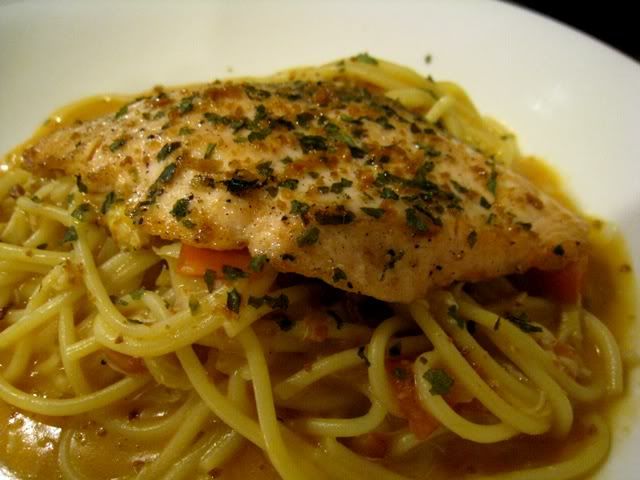 We had a choice between tomato or cream as the pasta sauce. Had wanted to try out the highly raved red pesto sauce but the friendly staff told us that it had been removed from the menu 2 weeks ago! Instead, he recommended us a mix, which is
tomato cream sauce
! We never knew how wonderful it tasted like until the dish was served! The spaghetti and the sauce left a lingering sweetness on our tongues! The spaghetti was very well done, just of the right firmness. Not too hard and not too soft. In fact, it was even a little springy!
(A: I never like pasta in my whole life but this was the first time that I actually finished it all! I enjoyed every mouthful of it!)
This spaghetti was even better than many others that we tried in Italy! Seriously, just the spaghetti alone deserves full marks.
Are we missing out something??
Yes..the salmon. Erm, it just tasted like any normal salmon to us. Although there it was marinated with some herbs, but we could not taste any of the herbs and was rather bland. It just tasted like 'panfried salmon' nothing much to comment about. Haha.. However we do have a little complaint about the crabmeat. There was too little crabmeat! Haha.. but anyway, the pasta and the sauce was the highlight of the dish. Not the crabmeat or the salmon. Next time we will just order the pasta & sauce alone!
*Wonder we are able to do that. Heex*
J's & A's rating: 4.8/5 pasta & sauce, 3/5 for salmon
It was a roller coaster ride going uphill so far, with the 2nd dish overwhelming the 1st and the 3rd made us forget the 2nd. We were literally brought to heaven after happily lapping the entire spaghetti with tomato cream sauce off our plate. Here comes our MAJOR displeasure of the night. The big BOOM!
Brownie with French vanilla ice-cream, $6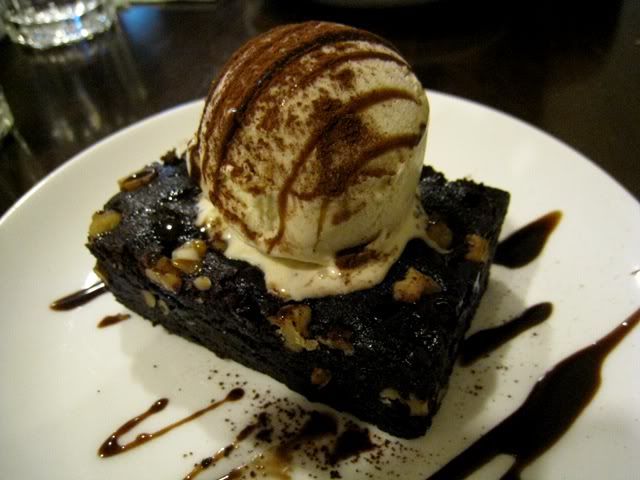 Doesn't this look familiar? Deja vu? Yes, it closely resembled
Cafe Oliv
's warm chocolate brownie and it was actually this dessert which enticed us to Bistro 103. Read many reviews that their brownie was fantastic and so hot that it could even burn your tongue. Dying to try out better ones after
Cafe Oliv
, we dared ourselves and ordered 2 brownies which we deeply regretted.
When the brownie was served, it was not warm at all. So, we requested for it to be warmer. The waitress reheated it and brought back the same brownie which we ate!
BIG NO NO!
Although the service they provided earlier was excellent, one wrong move for serving us the same brownie which we had eaten earlier brought the entire service level down! (
Cafe Oliv
would have changed the entire brownie for a new one ever since we made a complaint to them.) Nevertheless, we still ate the brownie which was softer than
Cafe Oliv
and contained walnuts and chocolate chips. The French vanilla ice-cream contained no vanilla taste at all! It just tasted like ice + cream. It was a sticky ice-cream which we find it tasteless. The brownie, being not warm enough eventually brought the otherwise satisfactory dinner downhill immediately. The guy who served us earlier came to us and explained that because too many customers complained that their brownie was too hot, tts y they dared not make the brownie too hot. BUT we want it hot! Guess
Cafe Oliv
still serves the best brownie afterall. We were really disappointed and dismayed because we feel that desserts are supposed to uplift one's spirits but it totally ruined our entire dinner. Yes, we're desserts ppl and really cannot tolerate when they fail to meet our expectations. Not wanting to waste the $12, we rushed through desserts and just want to get out of Bistro 103 asap.

Bistro One Zero Three
103 Pasir Panjang 118531
Tel: 6476 6373