It's family day~ We'd decided to dine at this family restaurant again, Cafe de Hong Kong! It's been such a long time since we last visited during CNY. We were quite impressed with the food back then.
Cafe De Hong Kong serves one of the best
Yuan Yang ($2)
around (IOHO). The yuan yang had a nice balance of coffee and milk tea, with a slightly higher tone of distinctive HK milk tea we would say. The level of sweetness and bitterness was just appropriate for us.
J's & A's rating: 4.5/5
Previously when we tried the
French Toast ($4.80
), we were quite disappointed as the peanut butter slapped onto the thick slices of bread was rather miserable. Nevertheless, we decided to give it another chance and specifically requested for more PB. We were waiting in anticipation, fantasizing about molten PB oozing out of the toast and polishing the plate sparkling clean. But none of this was realized when the toast was served. No doubt the french toast looked yummy, perfectly fried to golden brown. But the taste was utterly a letdown, with little PB which turned out to be very dry. Can you imagine 4 people sharing this yet we couldn't finish it?
J's & A's rating: 2.5/5
A's heart was leaping in joy when she finally get to eat her favourite dish,
Three Cups Chicken "三杯鸡"($12).
As the name suggested, a cup of soy sauce, rice wine and sesame oil are each added to marinate one chicken. The dish was served sizzling hot, really comforting! Chicken was tenderly fresh and succulent. Slightly sweet and savoury, basil and ginger were added for extra fragrance!
J's & A's rating: 4.5/5
Country Tofu ($12)
came next. Bits of seafood mixed in silky soft tofu and embedded in its thin, crispy exterior. We definitely enjoyed it but pity J wasn't impressed with the presence of some unidentified greens in the tofu which put her off totally.
J's rating: 3/5, A's rating: 3.75/5
The
Salad Dressing With Prawn Ball ($12)
seemed to have lost its wow factor. Prawn balls were not as crispy as we would have liked, and the flour coating seemed too thick. Overall, it was a decent dish.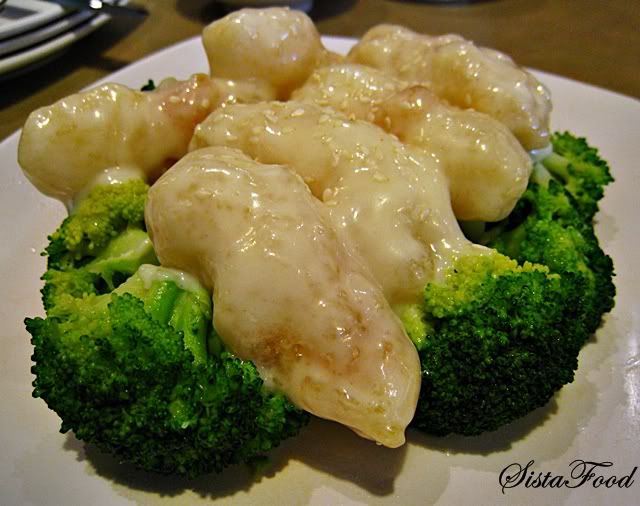 J's & A's rating: 3.5/5
Stir-fried You Mai Cai with Dace Fish ($10)
Surprisingly, this last dish came as a big hit! The dace fish and black beans were delightfully salty, which added robust flavours to this otherwise ordinary vegetable dish . It was tantalizing to the tastebuds when we simply paired it with a bowl of plain white rice. Awesome!
P/s: Anyone can enlighten us what's you mai cai and dace fish? =P
J's & A's rating: 4.5/5
Cafe De Hong Kong
586 Balestier Road
#01-01 Eastpac Building
Tel: +65 6255 3865