Do you ever find it a chore to decide where to eat in town? Well, we do. Often waste time thinking what are the available yummies around Orchard area and end up somewhere else instead.
This time round, Sun With Moon struck our minds when Janelle mentioned about the tofu cheesecake.
Ahhh...something new coming up!
It was pretty packed during lunch time and we were only allocated a small tiny square table at an isolated corner. Nevertheless, we sat down grumpily despite feeling cramped and uncomfortable.
Janelle flipped through the menu and knew instantly what she wanted.
Ishikari Nabe - Salmon hotpot with Miso Soup ($15.80)
Miso soup was ordinary but it was the freshness of the salmon that amazed us. Half-cooked salmon, exposing its pinkish flesh at the centre, was indeed one of the better ones we've tasted.
A & J's ratings: 4.25/5
There wasn't many choices from the lunch menu and we decided to order the
Roll Sushi Combination ($22.80)
which comes with
Chawanmushi, Choice of side dish, coffee/ tea and ice-cream.
The sushi combination includes
Soft-shell crab sushi roll, California roll, Diced unagi sushi and Japanese omelette (tamago)
, all our favourites but failed to wow us. Decently average sushi.
Angeline particularly love the sushi rice as it was moist and didn't fall apart easily.
We didn't take a liking to the diced unagi sushi as we prefer biting chunks of unagi.
A & J's ratings: 3.5/5
The tamago was super moist, sweet and juicy but so tiny! We want more~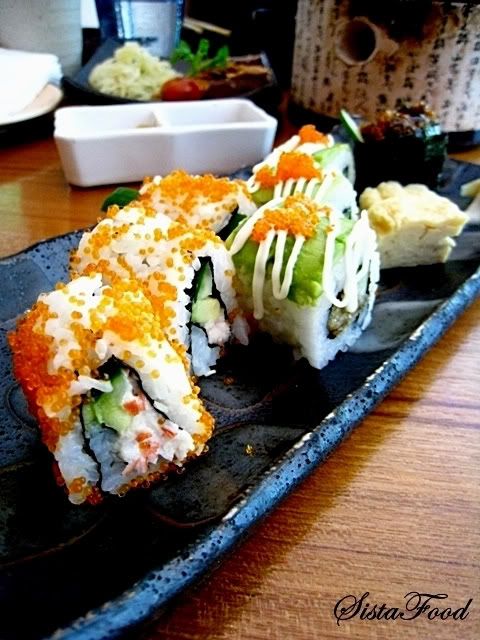 A & J's ratings: 4.25/5
The
chawanmushi
was
love
. So smooth and silky, almost like eating beancurd~ With the right balance of saltiness and embedded chunks of diced chicken and gingko nuts within, it was certainly a delight.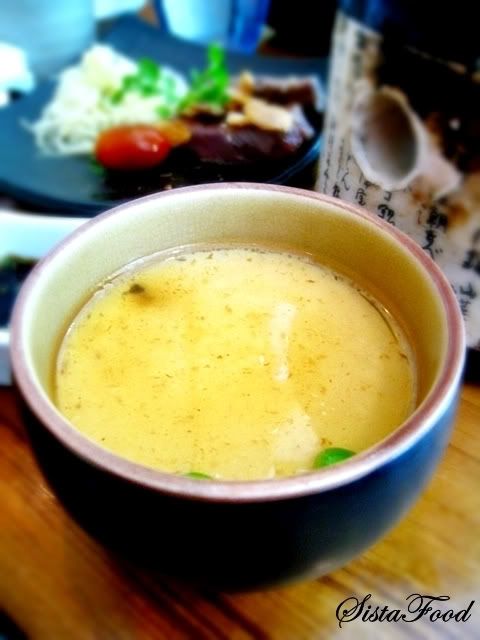 A & J's ratings: 4.5/5
W
e
decided on the
Grilled Beef Steak (medium-done)

as our side dish.
This would probably be one of the dish that we didn't fancy as the beef was very tough and chewy.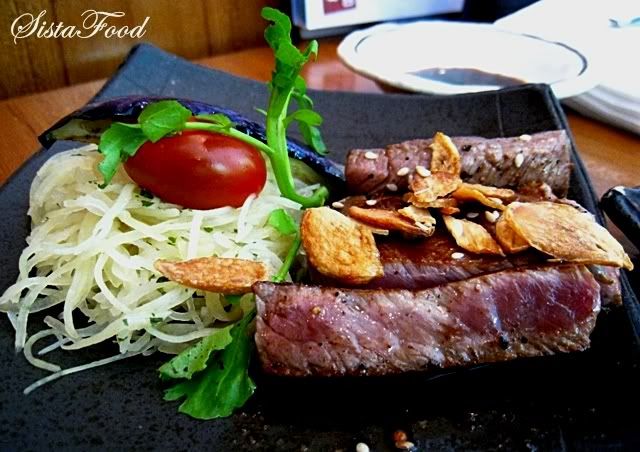 J's & A's rating: 3/5
And finally the
Green
Tea Ice-cream with azuki red beans.
Smooth and creamy ice-cream infused with strong taste of macha. It was fantastic!
Paired with the sweet azuki red bean paste, it was unparalleled and we felt like we were in macha heaven!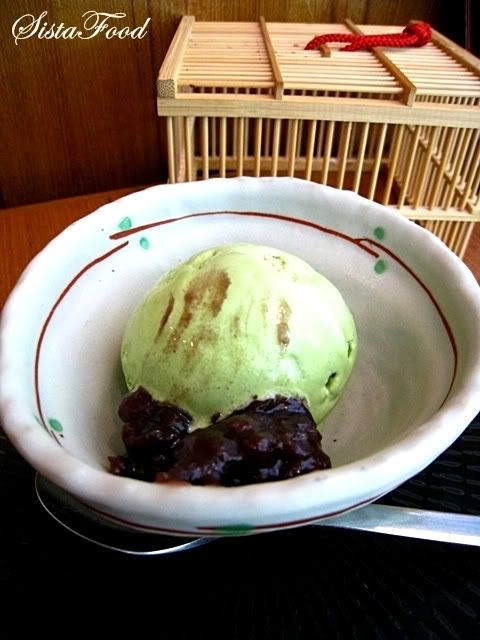 J's & A's rating: 4.5/5
Did we forget something??
Yup, we came to Sun with Moon with one purpose. To try out their signature
Tofu Cheesecake ($5.50)
!
Locked in a small cage, it looked so delicate and fragile.
Release the cage and set it free!
The texture of the cheesecake wasn't quite what we expected. We thought it will be like the smooth and light Japanese cheesecake but it tended more towards a pudding. Slightly sweet, with a hint of lemon flavour .The crunchy cookie base definitely gave these cheesecake an extra boost, otherwise we felt that it came across pretty ordinary. We will gladly exchange the cheesecake for macha ice-cream.
J's & A's rating: 3.5/5
Though there were hits and misses, generally the food served in Sun with Moon were fresh. The service can be a little slow during lunch hours and it will be advisable to order all your food at one go. Otherwise, it can be very difficult to get their attention. The portion of food may be insufficient for some, so be prepared to spend more to fill your empty stomach!
Sun With Moon (Wheelock Place)
501 Orchard Road
#03-15 Wheelock Place
Tel:
+65 6733 6636