What does a food bloggers' outing mean? Food talk and camwhoring of course! Snap snap snap, munch munch munch, "How do you find the food so far?" "Which is your favourite among all?" Yea, this sums it all...
It is definitely enjoyable to meet fellow foodies where all of us have one thing in common, FOOD! And sampling cakes make the perfect outing for food bloggers because we do not have to worry about our food turning cold and we have ample time to capture our perfect shots, with the exception of baked souffle of course oops =P
Strawberry Shortcake ($8.90++)
Layers of fresh juicy strawberries, vanilla genoise and strawberry creme coated with puff pastry flakes baked to a golden brown perfection.
Judging from the portions of cakes left after passing the plates around for all to try, it is not surprising that what's left of the strawberry shortcake was just an empty plate. As the description suggests, the strawberries were fresh, juicy and sweet. The cake was baby soft and the cream were light on the palates. Oh and not to forget the puff pastry flakes and base which added a twist of creativity and crunch to this common cake. In short, heavenly~~
(A: I chomped off the last bite! :D)
The first sentence that popped out of J's mouth was "Oh! This reminds me of lychee agar agar!" The mousse was velvetly smooth with subtle taste of rose. Sweetness hit the right spots and the cake was literally melted in our mouths. Dainty, light and refreshing. Who would have thought that lychee & rose can be so compatible?
A's rating: 4.25/5, J's ratings: 4/5
Hazelnut Pear Torta ($6.90++)
Soft and moist cake with generous slices of pear. The cake pulled off rather brilliantly on its own. However, we couldn't really make out the crunchy hazelnuts within the cake, unless the description refers only to the hazelnut toppings.
Matcha sponge and azuki bean compote layers in a yuzu infused bavarois.
Yuzu
(柚子) is a Japanese citrus fruit which is about the size of a tangerine and is quite sour on its own. 1 Caramel was able to combine the strong aroma of Yuzu with

macha pretty well. Bravarois was light and creamy, texture similar to that of french mousse. Together with the macha sponge, this interesting creation is certainly

one-of-a-kind.
A & J's ratings: 4/5
Peanut Butter Cheese Tart ($6.90++)
Peanut butter cream cheese tart with a hint of lemon and a crunchy layer of hazelnut praline.
This baby won our hearts over during our previous visit to 1 Caramel. We love peanut butter, we love hazelnut praline. Marriage of slightly salty smooth creamy peanut butter cream cheese with sweet crunchy hazelnut praline gave us the best of both worlds. Purrrrfect!
Chocolate Praline Cake ($7.90++)
1 Caramel's cocoa signature cake with varying layers of chocolate mousse and hazelnut praline feuilletine.
Chocolate lovers out there, this is the cake for you! We adored the rich, bittersweet chocolate ganache but wished that the hazelnut praline layer could be thicker. For those who are hoping to enjoy a piece of ferrero rocher cake, perhaps you might want to check
this
out.
Brownies Almond Cake ($4.50++)
A delicious pairing of moist chocolate and almond brownies.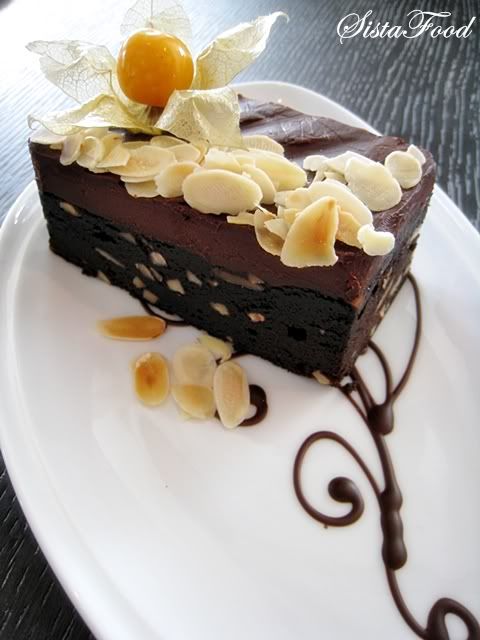 We applaud the exquisite presentation of this brownie, but it failed to score on its taste. The brownie came as rather dense and dry. Just like a cool mighty knight on his fine horse, what's a brownie without its exuding warmth and its accompanying icy knight?
Carrot Walnut Cake ($5.00++)
As you may have known by now, SF is a major fan of carrot walnut cakes. Unfortunately, 1 Caramel's rendition failed to match its description. The carrot walnut cake was crumbly and dry, and its cream cheese icing was so forgettable that we could not recall how it tasted like. Perhaps the only saving grace was the strawberry and dried apricot.
Red Miso Souffle ($12.90++)
The salty goodness of miso in a dessert! Uncover the sweetness within our one of a kind souffle. Paired with yuzu ice cream which complements it very well. 15 - 20 min waiting time.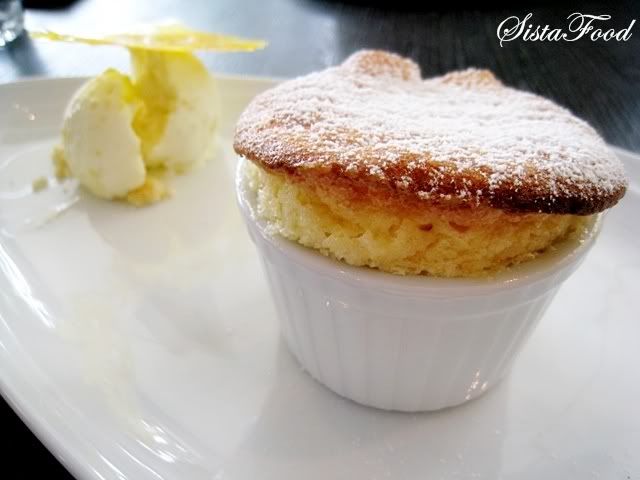 Thought that was all? Absolutely not! The innovation stemming from this unique souffle aroused our curiosity when we spotted it in the menu. As you can expect, the puffy warm souffle started to deflate and the fragile yuzu ice cream melted as though it was crying for attention, eventually giving way and split into half as it was being passed around for glamour shots. The waitress even reminded us to savour it while it's warm in order to enjoy the souffle. Time was running out and we had to act fast. Despite the aftermath of the phototaking session, the souffle still turned out to be a pleaser. We were swooned by the soft, savoury miso souffle, lightly sprinkled with sweet icing sugar and paired with the sour yuzu ice cream. J found the ice cream to be too sour for her liking though. The rich layers of flavours exploding on our tastebuds in waves definitely brought about a welcoming and refreshing change to the dessert world. Yum!!


Great appreciation to Harris who organised such a wonderful afternoon tea session. We truly enjoyed Eating, Snapping, Laughing and Gossiping!

Till then...


Together with us immersed in the sensual indulgence:
Elaine

(Divine Essentials)
Kaelyn

(My Food Sirens II)
Harris
(The Simplest Aphrodisiac)
Fen & Yuan
(Indulgence After Workout)
Michelle

(Never Trust A Scrawny Foodie)
1 Caramel
The Luxe
6 Handy Road
#01-01A
Singapore 229234
Tel: 6338 3282
http://www.1-caramel.com/