Tucked away in the quiet Balmoral Plaza, Waffletown seemed to have garnered sufficient support from its pool of loyal patrons for years despite its location. Upon reaching, reminiscence of the good old A&W located at Tanjong Katong flashed through our minds.
T
he interior wasn't impressive at all. The tables and chairs were very old and the floors were peeling.
(J: I remember vividly how i used to enjoy sitting on these kind of chairs in Mcdonalds and rotate left & right throughout my meals lol.)
In terms of cleaniness, well, they're acceptable. Anw, what matters most is the quality of the food right? :)
2 piece fried chicken $4.50
These fried chicken took us by surprise. We've always thought that the KFC fried chicken and the fried chicken wings from mountbatten swimming complex were unbeatable. KFC's secret recipe includes marinating herbs onto their chicken to enhance its flavor. Though Waffletown's fried chicken may look ordinary, what's impressive is that without the additional touchups like KFC, the perfectly fried golden brown chicken retained its
JUICYNESS
really well and the skins were really
CRISPY
. Also noteworthy is that they only fry the chicken after each order so you can enjoy ur fried chickens while they're
HOT
! Beware and watch ur tongue when u bite! A downside is tt we can't make special requests to choose the desired parts of chicken. We love thighs bcos they're sooo tender n always avoided ribs cos' they're really dry n hard. However, Waffletown's ribs are tender n juicy as well! Angeline finished it even though she hated ribs!
(
A: I was still gnawing on the bones even when I finished all the meat! haha)
FINGERLICKING GOOD~! Yumyum~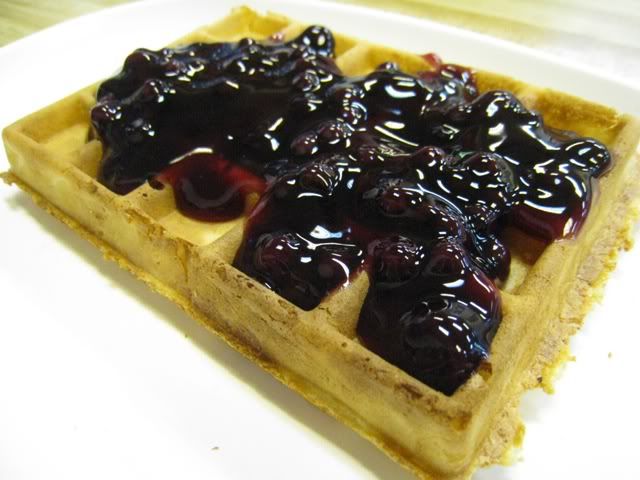 A trip to Waffletown is definitely incomplete without its highly raved waffles. They're really affordable as compared to waffles elsewhere. However, we must say they failed to meet our expectations. Though freshly prepared, the waffle was far too crispy for our liking. It reminded us of the Haagen Dazs' waffle we had in Monaco. We thought tt we were eating waffle biscuits instead of the waffle itself. Of cos, Waffletown fared better but still, it was overbaked, in our humble opinion. It wasn't soft & fluffy inside and the waffle tasted rather bland on its own. The blueberry toppings were delectable though. Generously topped with really
big
n
sweet
blueberries, this was the only enjoyment for us. Well, either Waffletown fell short of its standard tt day or their waffles are just not pleasing to our palates. Gelare still ranks no. 1 for our waffles treat.
A's & J's ratings: 3.25/5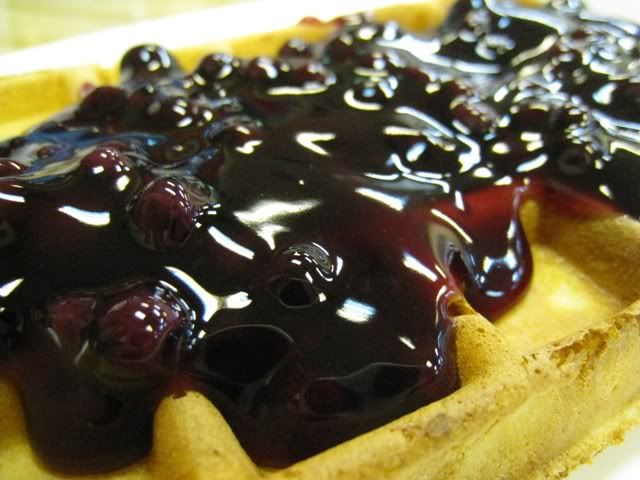 Waffletown
271
Bukit Timah Road
#01-02
Balmoral Plaza
Tel: 6836 6536
Daily: 11am - 10pm