J: My colleague has highly recommended Chocolat N' Spice muffins to me when i just started work. From afar, my nose had picked up the trailing fragrance of freshly baked muffins just right out from oven. Luckily, the queue was rather short tt day. She explained to me tt usually queues will be longer on thurs & fri cos' the OLs want to da bao muffins for the weekend. Upon reaching the small shop, I was simply spoilt for choices. And the place also gave me the feeling of marketplace bcos it was rather chaotic, with a few shop assistants taking down orders all at the same time. With all the commotions going on, I forgot what sis wanted me to order and ended up buying 1 more muffin lol.
From top left (clockwise):
Mocha (new!), blueberry, double chocolate, banana walnut, orange peel with raisins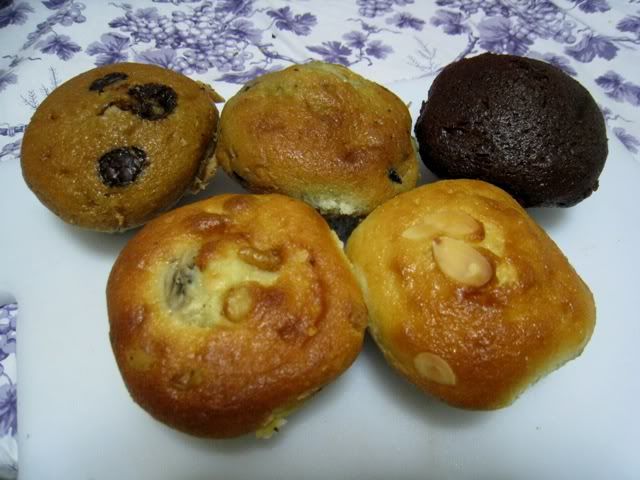 The muffins were wonderfully moist even when we ate them over the next 2 days. They were not overly sweet and tends towards a more cakey feel. Our personal preference lies towards the blueberry and mocha muffins. The large and sweet blueberrys were generously infused in the muffin! Being coffee lovers, the mocha definitely exude strong fragrance of cocoa and coffee. Definitely satisfying! Double choc and banana walnut muffins were pretty decent, nothing to shout about. Orange peel with raisins was definitely something refreshing but the lack in sufficient orange peel made the muffin extra ordinary.
A & J's rating: 4.25/5 blueberry & mocha muffins, 3.75/5 banana walnut & double choc muffins, 3/5 orange peel with raisins muffin


Chocolat N' Spice

Blk 1 Tanjong Pagar Plaza
#01-18
Mon-Fri: 8.30am - 5pm
Sat: 8.30am - 3pm (Closed on Sundays & PH)