Are you game?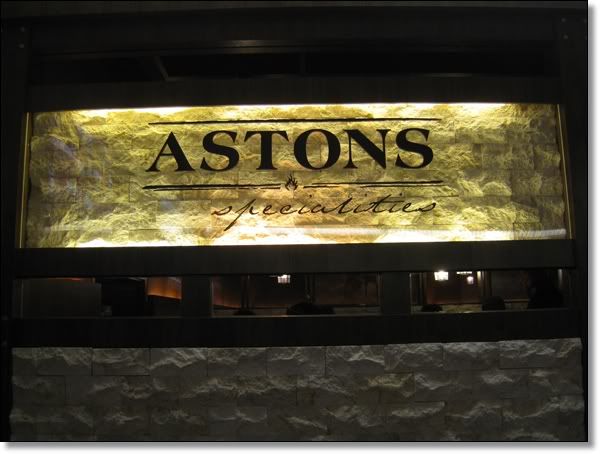 Aston Specialties is a place to go for decent western food at slightly above hawker prices. They're well known for their signature steaks. Over the years, more and more Aston outlets sprouted all over Singapore, bringing intense competition to other western counterparts. All these while, we stayed loyal to their steaks and chicken chops which we feel are worth paying for. Today, we'd decided to try something new, something which had been on their menu since 2006 but we'd only discovered its existence recently, and another newly added dish to their existing menu.
We bet many of you had already tried this fabulous
Aston's fries ($1.80)
.
Well seasoned to add flavors to the otherwise ordinary potato strips. Not too oily or salty with crispy exterior. Yum!
(A: It tasted like bbq flavoured Ruffles chips to me! :) )
A & J's rating: 4.25/5
Here comes the new dish,
Aston's Wagyu Burger ($9.90, promo price)
.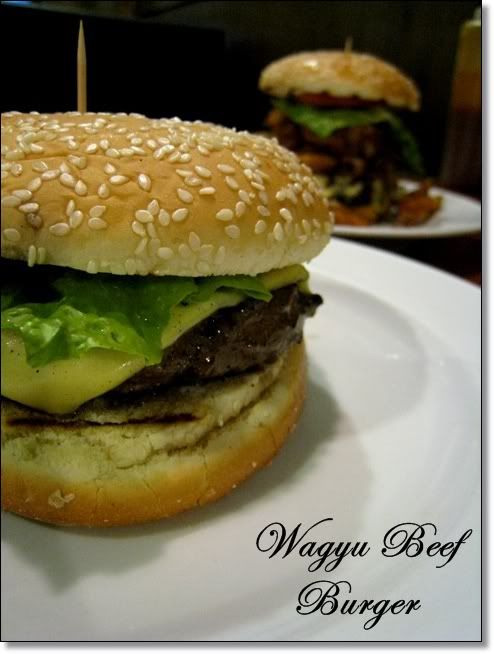 Presenting to you, ieat Super Burger ($12.50)!
Left:

Wagyu Burger

, Right: ieat Super Burger
We always love to share our food so that we can have a taste of everything... that's what sisters are for right? =P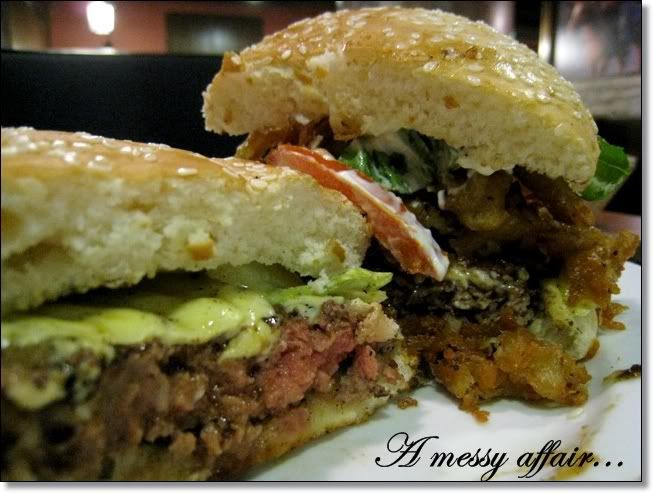 The wagyu burger was tasty. The beef was medium done, exposing a beautiful pink flesh that we always like. Tender and succulent. Yum yum!
A & J's rating: 4.5/5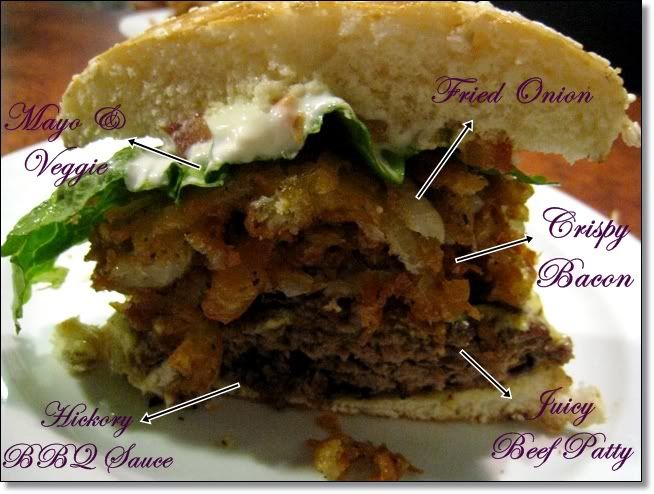 If you think the wagyu burger is the best, you're wrong! Now comes the star of the night. OMG, ieat super burger was the best burger we've ever had! When our food arrived, our jaws almost dropped as we stared at the size of this mega burger. How are we ever going to fit this super thick burger into our dainty mouths? lol =X yum yUm YUMMMMM~!!!
We flew to the burgers heaven immediately
after taking our first bite into this burger, with our taste buds tingling in joy.
WOW!
This is
SUPER SINFULLY SHIOK
! There was an
explosion of flavors
as we took time to chew and relish this yummilicious burger. We saved the best for the last, gobbling up the wagyu burger within minutes to fully enjoy this
BURGER KING.
Yes, it's the king of burgers in our hearts. Haha.
The topmost layer was the usual lettuce, tomato and mayo. Second lies a thick layer of fried onions. Beneath the slightly saltish batter revealed sweet onions which were purrrrfffeccttlly fried to crispiness. The batter was little close to that of the seasoning of Aston's fries. Even after sitting aside for some time, it still maintained its crispiness very well. Next reveals strips of crispy bacon, slightly charred at the edges. At the bottom sat the juicy beefy patty with melted cheese on it, drenched in hickory BBQ sauce. All sandwiched in between the toasted fluffy sesame bun!
It was really a messy affair eating this burger. We tried eating gracefully by using a fork and knife to slice the burger in pieces but the fried onions, and bacons kept falling out.
(J: In the end, I gave up using fork and knife... devouring the burger unglamly using my bare hands :P I was already craving for the burger even before i finished my last bite!)
A & J's ratings: 4.8/5


Once again we would like to stress that
taste is subjective
. Some may feel that this burger is ordinary but in
our humble opinion
, we feel that this burger deserves a perfect score. But the thing is, nothing's perfect in this world and there's always room for improvements. So let's leave some room for improvements, shall we? :) Seriously after savouring the ieat super burger, everything seemed tasteless and bland to us. We would even exchange our recent loves,
RC
's charsiew sor and custard bun for this haha!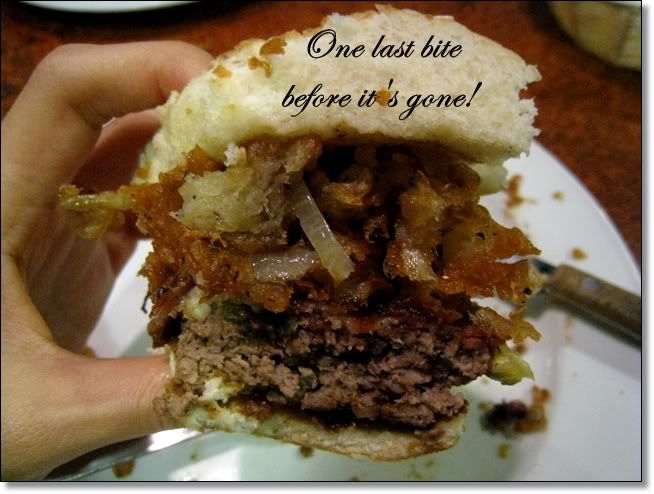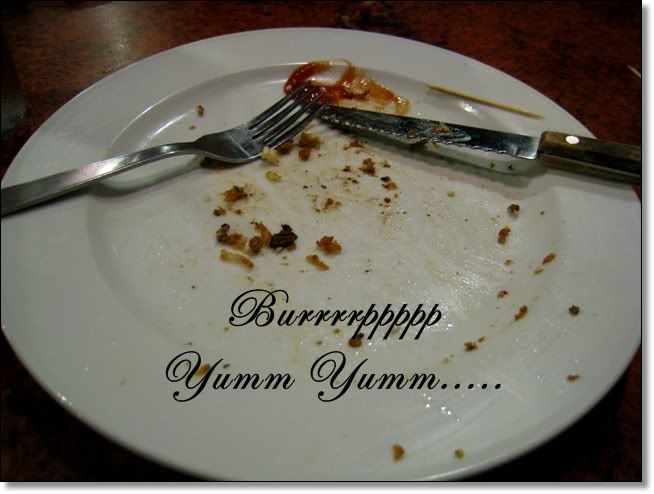 Click
here
to read more about this super shiok burger!
Astons Specialities
Suntec City Mall
3 Temasek Boulevard
Level B1-043/044
Singapore 038983
Tel: 6884 8816